I created this video just for you – my readers – something powerful, but not too long! Join me as I lead you in a Guided Healing Meditation with my herd of medicine horses.
Let the sounds of horses hooves, munching hay, birds singing… sink you deeper into connection with Chi/Ki/Prana/God.
Meditating is a way to connect the mind with the body, to integrate the layers of mind/body/spirit into one cohesive whole.
At the very least, joining me in this space should give your nervous system a re-set – make sure you're not interrupted to get the full benefits.
Let me know how this felt for you – did anything change, shift or open for you?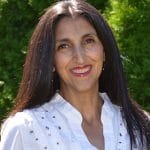 Jini Patel Thompson is an internationally recognized expert on natural healing for digestive diseases. She healed herself from widespread Crohn's Disease and has remained drug and surgery-free for over 25 years. Jini has appeared on numerous podcast, TV, and radio shows throughout the U.S., U.K., Canada, and Australia, giving people hope and vision for how they can heal their Colitis, Crohn's, Diverticulitis and Irritable Bowel Syndrome (IBS), using entirely natural methods. Her books on natural healing for digestive diseases have sold worldwide in over 80 countries.