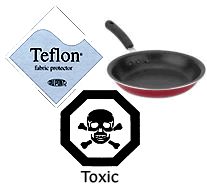 In Chapter 4 of Listen To Your Gut, I write about the dangers of Teflon-coated (and other non-stick coated) pots and pans and give you all the data on why we shouldn't use them.
Well, following is an interesting article from the New York Times, written by someone else who heard about the dangers of Teflon and set out to test a number of different pans to see which one worked best and was the easiest to cook with and clean up afterwards.
I was amused by the fact that she rated the enamel-coated Le Creuset pan as the best out of them all. I have one Le Creuset frying pan (bought while my hubby had a contract in Singapore and was making loads of moola – they're very expensive) and I have to say I like it the best as well! A full set is definitely on my wish list of things to buy when I have enough money.
Dr. Joseph Mercola recently launched a new line of nano-glaze ceramic pots and pans. However, when I looked up the patent for this new nano-glaze technology, there seemed to me to be a lot of glue involved in getting the nano-sized ceramic particles to adhere to the surface of the pans. 

I emailed Mercola asking about the glue and if they had done testing to see if any chemicals from the glue were leaching during the cooking process, but received no response.
My other hesitation with this new nano-glaze cookware is that having spent several months now researching nanotechnology – specifically nanoparticle minerals – I am also concerned about whether the nanoparticle-sized ceramic glaze components leach into food or the air.
You know how we now have washing machines with nanosilver sterilization cycles and socks with nanosilver antibacterial protection? Well, now we've also found that the nanoparticle silver in the wash water is entering our ground water and in turn altering the algae and bacterial balance in waterways and ponds, etc.
Joe Mercola states that they tested for any leaching of common metals (like you can get from other pans), but you would have to test specifically for leaching of nanoparticle-sized compounds – which is a very different process.
So whilst those pots (and their light weight) are very appealing, I wish someone would carry out the testing necessary to answer these questions – until we have more data I won't be trying them.
Anyway, onto the article….
____________________________________________________
In Search of a Pan That Lets Cooks Forget About Teflon

By: Marian Burros, New York Times
 – June 7, 2006

LIKE many home cooks, I have sent my nonstick skillets to the moldy recesses of my basement, where they have joined the 1950's aluminum pots and the Dru casseroles (Dutch enamel coated cast iron, now eBay collectibles).

What led to this step were unsettling reports that an overheated Teflon-coated pan may release toxic gases. DuPont, the manufacturer of Teflon, says that its pans are safe and that their surfaces won't decompose, possibly releasing the gas, until the pan's temperature reaches 680 degrees. Some scientists say that an empty pan left on a burner set on high reaches 700 degrees in as little as three minutes. All pans with nonstick coatings are subject to the same problems, according to the Environmental Working Group, a nonprofit environmental research and advocacy organization. I banished the skillets last year and spent months dithering over what to buy while making do with the pans I had left: a large Revere Ware skillet with a concave bottom; a small, warped hand-me-down from my mother; and a medium All-Clad in fine shape.

A few passes at online pot sellers made matters worse: there are too many choices. Finally, after consulting the ratings from Consumer Reports and Cook's Illustrated and calling several experts, I decided to do a test of my own, using the most highly recommended pans, along with a few of my own choices.

While Teflon lets manufacturers make inexpensive pans usable, uncoated cheap pans have hot spots, so cheaper pans – other than cast iron – were never considered. The most important characteristic was how close the pans came to having the nonstick qualities people love about Teflon. Can they sauté and brown, even without oil? Almost as important,