This video is brought to you by REACH – a private practice based in the UK made up of over 65 practitioners specialising in a range of disciplines which include: counselling, psychotherapy, hypnotherapy, meditation, nutrition and mind-body medicine, among others.
Their underpinning belief is that synergy is the answer – the panacea for all ills. Until we realise we are unlikely to find all our answers in one place, we will continue to go through countless revolving doors which promise to meet all our needs. Reach's model is built on the principle that to truly meet one's needs, all areas of one's life need to be looked at honestly and no one body of knowledge offers us the insight required to take that journey. Therefore holism and integration are the keys.
Enjoy this beautiful and elegant 30 minute meditation from the team at Reach that will take you to that space where healing on all levels is possible.
This guided meditation combines words, music, images, and some echo effects to bring healing light to your gut and your cells, release negativity and re-program yourself with positivity and belief in your body's self-healing abilities.
You can either just close your eyes and listen to the narration, or allow the beautiful images to help transport you to that place where the mind can entertain the impossible, and the miraculous becomes real….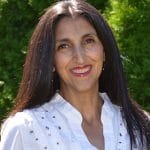 Jini Patel Thompson is an internationally recognized expert on natural healing for digestive diseases. She healed herself from widespread Crohn's Disease and has remained drug and surgery-free for over 25 years. Jini has appeared on numerous podcast, TV, and radio shows throughout the U.S., U.K., Canada, and Australia, giving people hope and vision for how they can heal their Colitis, Crohn's, Diverticulitis and Irritable Bowel Syndrome (IBS), using entirely natural methods. Her books on natural healing for digestive diseases have sold worldwide in over 80 countries.