What pain do you suffer from on a daily basis? Or perhaps you just get severe pain during times of stress or flare ups?
In this video, I share my technique to transmute pain from something that "hurts" to simply receiving messages from the body. I share how I fought full-contact martial arts, transformed severe abdominal pain, and have all my dental work (including jaw surgery) done with no anesthetic. Yes, something close to miraculous happens when we leave fear and step into dialogue and congruence with our physical body…
And if you haven't already, take a peek at my natural tooth decay healing protocol, which has helped keep my family free of dental issues for YEARS.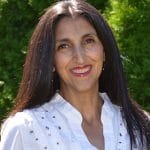 Jini Patel Thompson is an internationally recognized expert on natural healing for digestive diseases. She healed herself from widespread Crohn's Disease and has remained drug and surgery-free for over 25 years. Jini has appeared on numerous podcast, TV, and radio shows throughout the U.S., U.K., Canada, and Australia, giving people hope and vision for how they can heal their Colitis, Crohn's, Diverticulitis and Irritable Bowel Syndrome (IBS), using entirely natural methods. Her books on natural healing for digestive diseases have sold worldwide in over 80 countries.