I am extremely concerned with what's happening around alternative/natural health information on this planet – especially in North America – and wanted to give you all a 'heads up!' so you can be informed and prepared for the extreme health info censorship.
Of course, it all started with the big-C rollout. At that time, they went after all the big names like Dr. Joseph Mercola, Dr. Christiane Northrup, Dr. Kelly Brogan etc. They wiped out their social media accounts, website content, etc.
I am super small fry compared to these heavy hitters, but my blog posts used to appear on page 1 of Google for many specific search terms, like 'perianal abscess'. But since then, I'm lucky if my blog content shows up on page 16 of Google. I also went in and changed post titles and keywords to avoid any censor-triggers concerning the flu, virus, respiratory, vax, etc. I think that bought me a little more time.
This week, I've discovered that YouTube (owned by Google) is now hiding all of my videos!
For example, I have TWENTY-THREE videos on elemental diets – type that search term into YouTube and my videos do not appear. Then I thought, well maybe YT is only censoring me for gut healing info. So I had five different people enter "eucalyptus steam" into YouTube's search box. My video, with those words in the title and description, does not appear. A video with 10 views is listed. My video with 35,000 views does not appear.
Then my husband Ian, found this video:
Well there you go! Dr. Berg has 11 million subscribers, I have just under 20K on YouTube. If they're going after small, niche within a niche, people like me… well that's a sign they're legit trying to wipe out ALL natural health.
So what can you do?
One of Dr. Berg's followers left this comment under his video and I think this is a great idea:
There are many places where you can download YouTube vidoes for free, here's one that I use.
I also suspect that all potent health information that works well may have to go behind a firewall – like a password-protected Members Only site, something Google cannot spider. In extremes, it may have to go offline, so I'm now backing up all my blog posts into a document. And compiling all my Home Remedies into a book.
Make sure I have your email if you want to stay in touch if they censor me further. Subscribe to this blog, or if you've purchased from the LTYG Shoppe then I also already have your email. Just make sure I have your current email and not an old expired one.
In Canada they are very close to prohibiting naturopathic doctors, homeopaths, chiropractors etc. from serving people. I asked my chiropractor, "Do you have the email address and phone number for every one of your clients?" He said he did, so I said, "Then you just take down your sign, maybe put up a new one that says, Financial Consultant or something. Worst case scenario, you move locations. Then you email all of us and let us know where you are. We show up and pay cash. Done."
If you've been following the Great Reset, or the Trucker Convoy, or any number of communist/fascist government actions on the planet, then you'll know there's no point individually fighting these big boys. The solution is to go stealth.
1% of Americans are now prepared to go at least a month without power, water, heat or food provided by the gov't or stores. That is a HUGE number and a very encouraging sign that people are waking up. My philosophy is that you may not need to provide your own necessities, but if you do, you'll sure be glad you did! I'm not fully off-grid yet, but nearly there.
So don't worry, I've been putting a lot of thought into how we'll still be able to provide you with information and support if the Great Reset/Big Pharma shuts me down. I know our customer service team supports hundreds of you at any given time, and I want to still be able to do that. As I said, hopefully it won't come to that. But if it does, know that I've got your back – just make sure I have your email so I can contact you 🙂
Use this form to subscribe to my Newsletter (you'll be notified when I publish new blog posts) and then I'll also have your email: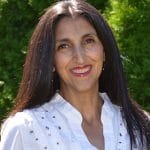 Jini Patel Thompson is an internationally recognized expert on natural healing for digestive diseases. She healed herself from widespread Crohn's Disease and has remained drug and surgery-free for over 25 years. Jini has appeared on numerous podcast, TV, and radio shows throughout the U.S., U.K., Canada, and Australia, giving people hope and vision for how they can heal their Colitis, Crohn's, Diverticulitis and Irritable Bowel Syndrome (IBS), using entirely natural methods. Her books on natural healing for digestive diseases have sold worldwide in over 80 countries.