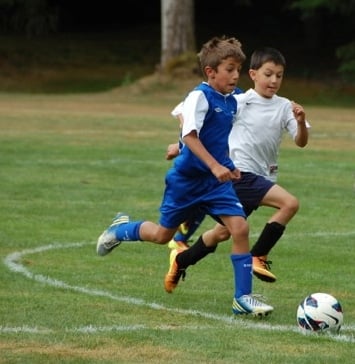 Here's one of the things I dread the most: My kids (aged 9 – 15) come home from school wailing, "I'm starving!!"
Usually, they only have 15-30 minutes before they have to rush off to a sports event. Sometimes, we have to bring them food in the car, because they have to eat on the way from school to the gym.
My daughter trains gymnastics for 3 hours, my sons play basketball or soccer for 2 hours – we're not just talking about a snack, they need a serious meal to fill up their energy tank before they go burn it all off!
So, after much frustration and trial and error (that I will spare you) I'm just going to share my SOLUTIONS. This is how I've learned to run my kitchen/freezer so that we can provide quick, yet nutritious meals for 3 kids who love delicious food.
First, here's what I keep my freezer stocked with. You can either do this yourself, or hire someone to come in and cook for 2 days/month to prepare and freeze all this stuff for you:
Chicken strips (GF or regular)
Grass-fed beef burger patties
Lasagne, cut and frozen in individual portions
Single-sized pizzas, made with spelt dough, raw cheddar, mozzarella, natural meats (no nitrates)
Tomato Veg Soup (made from all fresh roasted veggies – zucchini, round yellow squash, parsnip, onion, tomato – pureed together)
This is the stuff I buy from my local organic grocery store (no preservatives, organic ingredients) and throw in my freezer:
Frozen perogies
Ravioli stuffed with Goat Cheese
Tortellini stuffed with Organic Chicken
For my tomato sauce, here's my cheat: Use 1 bottle of store-bought organic Marinara Sauce (my kids like Muir Glen or Simply Organics brand), mixed together with 1 can of tomato paste, garlic powder, salt, and about 1/2 cup water. This doubles the sauce, so I use half and pour the other half back in the bottle to refrigerate for next time. The kids love it.
Wherever cheese is used, I use RAW cheese. Organic and ideally pasture-fed butter, lacto-fermented mayonnaise, lacto-fermented ranch dip, and homemade Caesar dressing ensure extra nutrients and high quality good fats. Raw milk provides those vital tooth and bone-building nutrients, along with probiotics.
And then this is the list I tack on the fridge. This is VERY IMPORTANT to have printed out and up on the fridge for all of us when the crunch is on and no one can think of what to make!
MEALS FOR THE KIDS
Chicken Burgers – warmed chicken strips on a bun with cheese, mayo, lettuce and tomato
Beef Burgers – burger patty, bun
for Hugo w/ cheese, pickles, ketchup, lettuce
for Oscar w/ double cheese, ketchup
for Zara with cheese, lettuce, tomato, mayo (NO ketchup)
Tortellini or Ravioli with tomato sauce, cut veggies, ranch dip
Bowtie pasta with organic butter & fresh grated parmesan cheese OR with tomato sauce, Caesar salad
Chicken Strips with Caesar salad
Perogies with cut veggies, ranch dip
Lasagne – in freezer; place on square white plate, put in toaster oven at 350 degrees for 30 minutes
Pizza – in freezer, place directly on rack in toaster oven at 400 degrees for 8 minutes
Chicken Melts – diced chicken with tiny diced celery & pickle, mixed with mayo. Spread on half a toasted bun, top with cheese and place in toaster oven on BROIL for 3-4 minutes.
Chili with grated raw cheddar sprinkled on top
Tomato Veg Soup with grated raw cheddar sprinkled on top
Chicken Noodle Soup – chicken broth with diced carrots, diced chicken, 1 bouillon cube and thin German egg noodles
Tuna Melts – canned tuna with tiny diced celery & pickle, mixed with mayo. Spread on half a toasted bun, top with cheese and place in t