This is a fantastic recipe for tummy-friendly turkey chili using my favorite pre-soaked, sprouted bean/lentil product. Of course, it's organic, but it's also available for a great price at Costco! It's the TruRoots Organic Sprouted Bean Trio and it contains mung beans, green lentils, and adzuki beans.
Most of us know we should be eating beans and lentils once our guts have stabilized to the point where they can digest them. But whilst your gut may not be able to handle canned beans, it may be just fine with this product as the beans and lentils are already soaked and sprouted – thus making them much easier to digest.
In a perfect world, you would have enough time to soak and sprout your own beans and lentils, but for many of us, that extra step means we avoid these highly nutritious foods. However, this is the other reason I LOVE this product – it's actually easier and faster to make than rice!
I've deleted a lot of the common gut irritants from this chili (like chili peppers, corn, tabasco, etc.) and I've also given you a more easily tolerated alternative to the taco seasoning spices usually used in chili. For other ingredients (like onions, mild salsa) that may be fine for some, but not for others, I have marked them optional and this recipe will still taste great without them. Enjoy!
JINI'S TUMMY-FRIENDLY TURKEY CHILI
Ingredients:
Pre-Cook 1 cup of TruRoots Organic Sprouted Bean Trio according to package directions = 3 cups cooked*
3 tablespoons coconut or organic extra-virgin olive oil, divided
1.5 pounds organic or pasture-raised ground turkey (or beef)
1 package (3 tbsp) all-natural mild taco seasoning mix (if your stomach is super-sensitive, then use 1 tsp ground cumin, 1/2 tsp turmeric powder, and 1/2 tsp cinnamon powder instead of the taco seasoning mix)
1 teaspoon ground coriander (cilantro)
1 teaspoon dried oregano
2 tablespoons tomato paste
1.5 cups organic or pasture-raised chicken or beef broth
1/2 cup organic mild salsa (optional)
1 (14.5 ounce) can crushed tomatoes, or coarsely chopped tomatoes packed in puree
2 carrots, peeled and diced
1 medium onion, finely chopped (optional)
2 cloves of garlic, diced
3 medium zucchini, diced (or 1.5 cups chopped green beans if you prefer)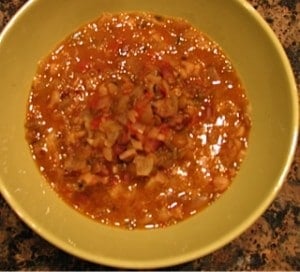 *If you like your beans soft, then cook about 20 minutes longer than the package directions.
Optional for garnish:
1 cup shredded raw cheddar cheese
1 cup organic sour cream or yoghurt cream cheese
4 green onions, chopped
Directions:
1. Heat 1 tablespoon of oil in a large stockpot over medium-high heat. Crumble turkey into the pot, stirring with a wooden spoon to break apart as much as possible. Season with taco seasoning mix, coriander/cilantro, oregano, and tomato paste, and mix until meat is evenly coated with seasonings. Continue cooking, reducing heat if necessary, until turkey is well browned.
2. Pour in broth, and simmer to reduce liquid slightly, about 5 minutes. Add salsa, tomatoes, carrots and cooked Sprouted Bean Trio and continue cooking at a moderate simmer for ten minutes. Adjust the thickness at any time you feel necessary by adding water.
3. While chili is still cooking, heat two tablespoons of oil in a large skillet over medium-high heat. Cook onion and garlic, stirring occasionally for 5 minutes, or until onion is translucent. Add the zucchini, and cook stirring occasionally, for 5 minutes. Add onion, garlic and zucchini to the chili, and continue cooking at a very low simmer for 15 minutes more. Again, adjust the consistency by adding more water or broth, if needed.
4. Ladle chili into serving bowls. Top with sour cream, green onion, and cheddar cheese, and serve.
Note: If you wish (and your gut can handle it), you can add chillies, jalapeños or tabasco sauce to taste, to make this spicy-hot.
---
Original post April 2013. Most recently updated Sept 2021.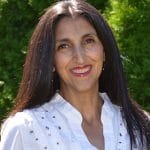 Jini Patel Thompson is an internationally recognized expert on natural healing for digestive diseases. She healed herself from widespread Crohn's Disease and has remained drug and surgery-free for over 25 years. Jini has appeared on numerous podcast, TV, and radio shows throughout the U.S., U.K., Canada, and Australia, giving people hope and vision for how they can heal their Colitis, Crohn's, Diverticulitis and Irritable Bowel Syndrome (IBS), using entirely natural methods. Her books on natural healing for digestive diseases have sold worldwide in over 80 countries.