Making the Most of One Organic Chicken
As you may know, I'm all about getting the "biggest bang for your buck". I'm always looking for ways to make life more efficient; obtain the same results with less effort, so that I have more time to play!
So in the steps below I'm going to show you how to get 3 meals, plus a gorgeous broth from one organic chicken:
Meal Prep
1. Buy a whole, organic chicken (remove the gizzards, neck etc. from the chest cavity and set aside in the fridge). Place the chicken (breast down, spine up) in a roasting pan. Surround the chicken with quartered potatoes, peeled carrots, and peeled, quartered onions (you can also add peeled, cubed squash if you like).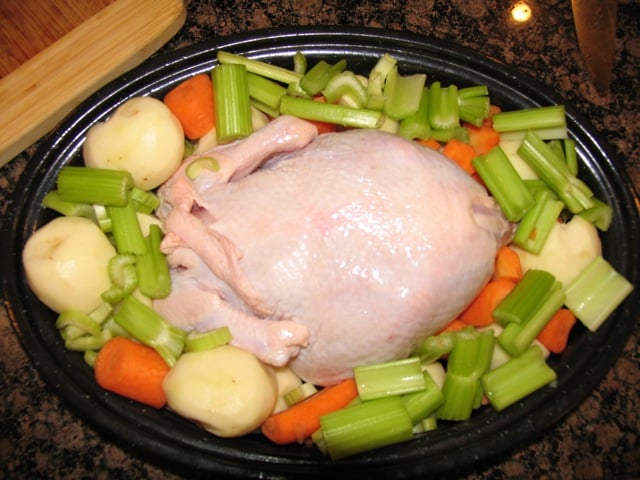 Drizzle olive oil over the top of the chicken and vegetables and then sprinkle the following spices on the chicken: powdered garlic, basil, oregano, hungarian (non-spicy) paprika, powdered ginger (use whichever of these spices you have on hand).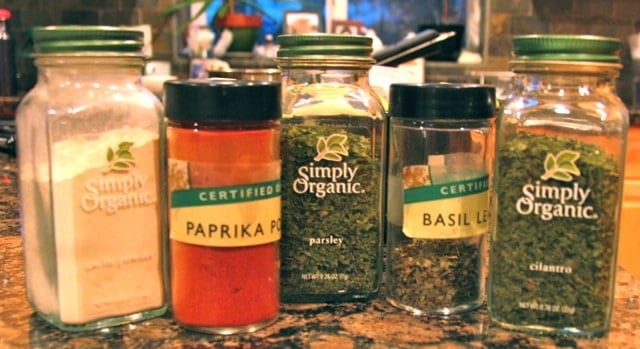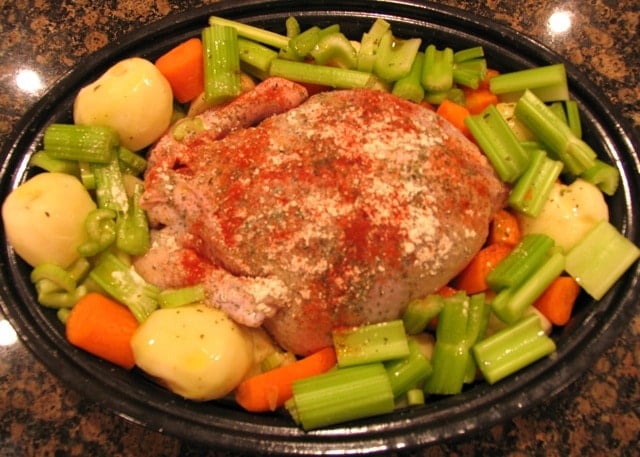 Then put the lid on the roasting pan and put it into a preheated oven at 350 degrees Fahrenheit. An average size chicken should cook in about 1.5 hours.
Make Extra Meals with Leftover Chicken
2. When the chicken is cooked, remove the lovely roasted chicken and vegetables from the pan and set aside for supper or later – that's your 1st meal. You can also make a gravy from the drippings left in the pan, if you wish.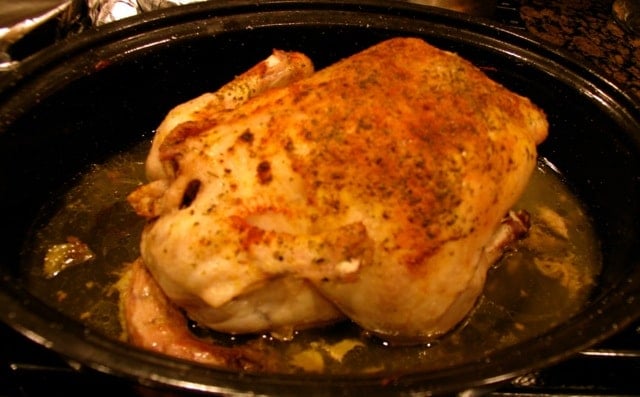 Creating a Nutrient-Rich Broth from Chicken Scraps
3. Whatever chicken meat is left from your dinner, package it up and freeze it for these future meals:
Cut into chunks ready for use in stews, casseroles, stir-fry or curry.
Dice finely and either freeze, or use the next day for Chicken Salad sandwiches (add equal parts yoghurt and cold-pressed mayonnaise to make the chicken salad – serve in sandwiches, or open-faced with raw cheddar melted on top).
You see, from one easily cooked chicken (much easier than even pan-frying!) you get at least three meals!
Storing and Using Homemade Chicken Broth
4. Now take all the remaining skin, bones, gristle, and the gizzards and neck you removed initially, and throw them all back in the same roasting pan.
Add filtered or spring water to within 2 inches of the top of the pan and 2 tablespoons of Bragg's Apple Cider Vinegar (or regular vinegar is okay too), and 1 tablespoon of sea salt.
If you like, you can throw some veggies in there; a chopped onion, 2 chopped carrots, 2 chopped celery stalks.
Put the lid back on and put it back in the oven (still at 350 degrees Farenheit) for at least 2-3 hours (longer if you can leave it – up to six hours).
Stir contents and break up softened bones halfway through.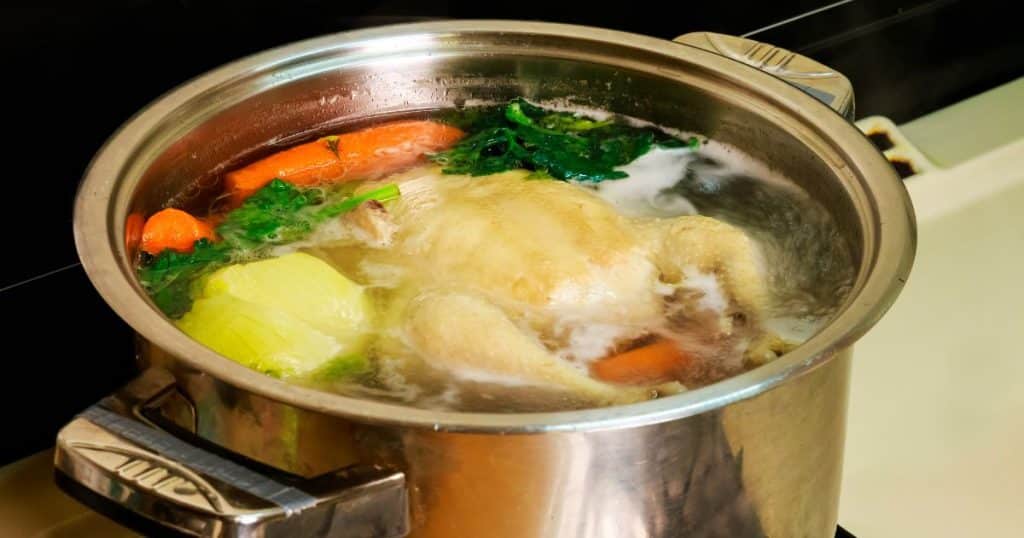 5. Remove pan from oven and throw chicken parts away. Strain the contents of the pan through a sieve into a large bowl underneath the sieve.
Place this bowl into your fridge and allow to cool overnight.
6. The next day, use a spoon to scrape the congealed fat off the top of the broth (unless you like to leave some of it in – it's a good fat) and throw the fat away.
Then package up the broth into freezer bags for future use in stews, sauces, soups, etc.
If you want to use the broth right away, it is good in the fridge for 3 days.
I usually use some right away as chicken noodle soup for the kids – I add diced carrots, some diced chicken meat, 1 bouillon cube and egg noodles – and freeze the rest.
Getting More Nutrients
Think of all the goodness and body-strengthening nutrients you can get from just one organic chicken! As with all things, the barrier is to just do it once, then it becomes a whole lot easier once you're familiar with it.
---
Original post October 2015. Most recently updated November 2023.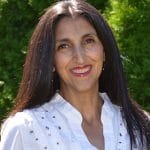 Jini Patel Thompson is an internationally recognized expert on natural healing for digestive diseases. She healed herself from widespread Crohn's Disease and has remained drug and surgery-free for over 25 years. Jini has appeared on numerous podcast, TV, and radio shows throughout the U.S., U.K., Canada, and Australia, giving people hope and vision for how they can heal their Colitis, Crohn's, Diverticulitis and Irritable Bowel Syndrome (IBS), using entirely natural methods. Her books on natural healing for digestive diseases have sold worldwide in over 80 countries.