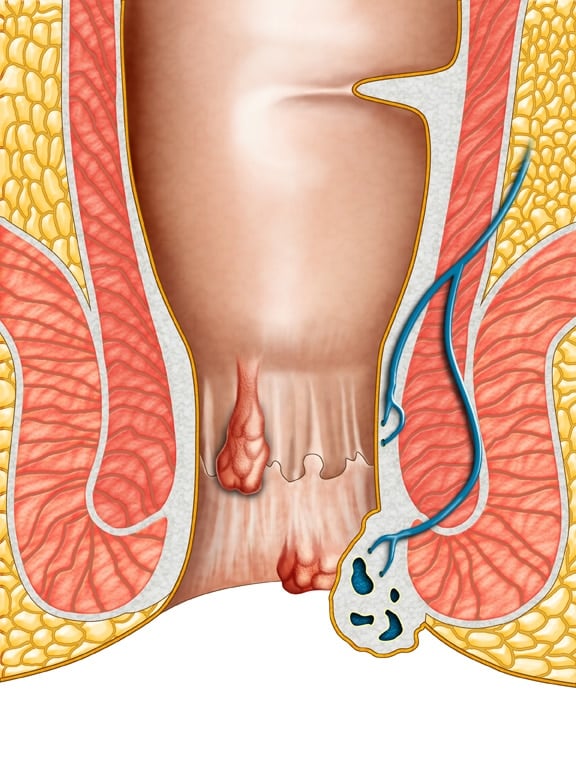 Since many people with IBD and IBS suffer from internal or external hemorrhoids, finding an effective healing remedy for hemorrhoids has been at the top of my list – especially since I too developed internal hemorrhoids after the birth of my daughter!
Those of you who have my Listen To Your Gut book know that there are effective substances you can use to shrink hemorrhoids (like bioflavonoids), but the problem is that you have to keep taking them and they don't always heal the hemorrhoids completely.
I first came across this powerful formula for healing hemorrhoids on Dr. Jonathan V. Wright's website. Dr. Wright is a prolific medical doctor who is also a proponent of using natural remedies whenever possible and he has wonderful protocols for using potassium iodide (SSKI) to treat a variety of ailments from hemorrhoids to ovarian cysts. Dr. Wright became very well known after Suzanne Somers featured him in one of her books on natural hormone balancing.
I took Dr. Wright's formula for healing hemorrhoids and began experimenting with it. My first challenge was to see if I could come up with a formula that worked for internal hemorrhoids as well. I had also been experimenting with DMSO for a few years, seeing what it could do, so I also wanted to see what happened (could I turbo-charge the formula?) if I added DMSO (dimethyl sulfoxide – a natural substance derived from tree bark) to Dr. Wright's formula and what the best ratio would be.
Dr. Wright also uses and writes about DMSO and one of his colleagues has tested a 50/50 combination of DMSO and potassium iodide on sebaceous cysts and found that to work well (although you would get quite a "sting" at that concentration!). So I did have some rough guidelines to work with.
Once I found formulas for both internal and external hemorrhoids that worked well for me and my family, I called them HemorrHeal and gave them to my JPT Wellness Circle members for further testing. In our experience, in most cases, hemorrhoids are completely healed, but at the very least, substantial relief is obtained. My own internal hemorrhoids (which I'd had for 6 years after the birth of my daughter) were completely healed in 7 days. It is now over a year and a half later and they have not come back, so I think it's safe to say that HemorrHeal is also a long-term remedy!

Like any facet of health, I suspect your success with this remedy will also depend on whether you are holistically addressing the root causes of hemorrhoids in your body. For example, if you are eating a diet that continually results in hard, dehydrated stools, or decreased peristalsis, then, whilst HemorrHeal may heal your first batch of hemorrhoids, your continual straining to defecate is just going to produce more hemorrhoids. So if constipation is an ongoing factor in your life, I encourage you to consider getting my book, Listen To Your Colon: The Complete Natural Healing Guide For Constipation – or at least read through the information on the website, watch the videos, and download the free report.
At the very least, be sure you are simultaneously using stool softeners during treatment with HemorrHeal. You can use psyllium, chia, or flaxseed to soften your stools (or t