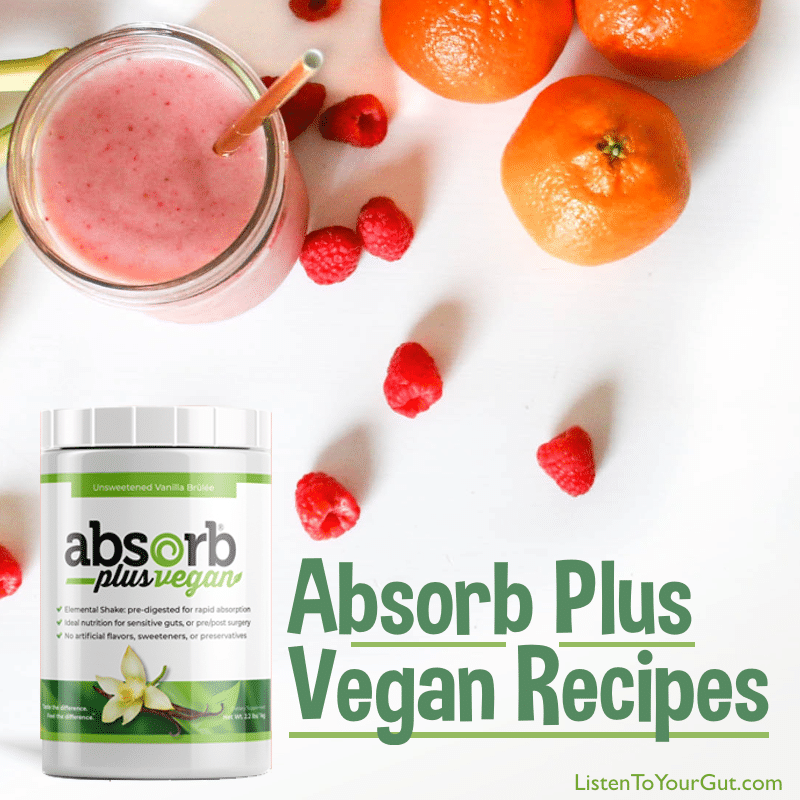 Jini's assistant Savannah here — you may have already heard, but Absorb Plus has gone VEGAN! Many of you have been waiting a LONG time for this (I know), and I am excited to announce the time has FINALLY come. If this is news to you, check out Jini's recent blog post and YouTube video.
In celebration of our new Absorb Plus VEGAN launch, I wanted to share with you some delicious, nutritional recipe ideas! Keep in mind, adding anything other than water or cold-pressed oil means the shake is no longer elemental – so for those of you following a strict elemental diet, only the first recipe will work for you.
A half-elemental diet, however, may be a good alternative to try for those who are struggling to adhere to a 100% elemental diet. In fact, there are actually some benefits to half-elemental diets – read Jini's blog post about a clinical trial where they assessed 26 patients with Crohn's Disease using a combination of an elemental diet for half of their food intake (900 – 1200 calories per day) and then whatever they wished for the other half ("free diet").
♥ CLASSIC ABSORB PLUS SHAKE
Pour 1 cup (8 ounces) of cold water* into a blender, then add:
1 tsp. – 1 tbsp. organic flax, MCT, or Udo's Oil (as much as you can tolerate)
4 level scoops Absorb Plus VEGAN
Absorb Plus should ONLY be blended on LOW speed for a maximum of 10 seconds
Pour into a glass over ice and drink slowly.
*Use cold or room temperature water (spring or filtered recommended). Do not use hot water. You can use liquids other than water (raw milk, almond milk, rice milk), but keep in mind the shake will no longer be elemental.
♥ FRUIT & RICE PROTEIN SHAKE
This is a yummy recipe I found on Dr. Mark Hyman's website. with a couple variations of my own. This shake is chock full of natural antioxidants and great for balancing your blood sugar.
*Please note when adding items like fruit, nuts, etc. to your Absorb Plus shakes, add them FIRST and then blend as desired – lastly, add the Absorb Plus and any Udo's or Flax oil (which also should not be whipped on anything but low speed) for a quick, low speed blend.
Blend together first:
1/2 Cup Fresh Or Frozen Noncitrus Organic Fruit (such as Cherries, Blueberries, Raspberries, Strawberries, Peaches, Pears, or Bananas)
2 Tablespoons Sprouted Chia/Flaxseed powder
1/4 Cup Nuts (optional – Soaked overnight, such as Almonds, Walnuts, Pecans, or any combination)
6-8 Ounces Filtered Water (more or less, as needed, to achieve desired consistency)
Ice (made from filtered water), if desired
Add, then blend on LOW for max 10 seconds: