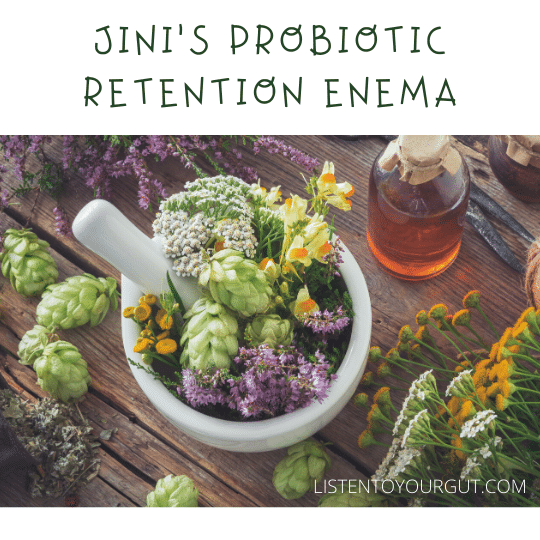 I just had to post this account from Jay Baluk (a.k.a. The Gut Ninja, and formerly known as CROHNSBOY) who tried Jini's Probiotic Retention Enema. 
I love Jay because he's SO candid and honest and blunt, and the photo on his post alone is so funny I just had to point you to it! But, WARNING: If you're a very proper, straight-laced, kind of person, then it's probably best if you give The Gut Ninja a miss. For me, I love Jay's irreverent style and hope he never changes!
If you haven't tried Jini's Probiotic Retention Enema yet, maybe Jay's story will inspire you. A probiotic retention enema is the fastest way to implant a mega-dose of. M beneficial bacteria straight into the colon – and lower part of the small intestine.
In Jay's own words:
I wrote a BLOG about your enema stuff etc. It really is nothing short of amazing! I think that alone could pull most people out of their flares.

In the next few weeks I am going to start taking the healthy trinity if all goes well. As I think these will benefit me a lot as they get a lot of good bacteria into your gut.

I feel like 90% today, tenderness is slightly present but will go away within next few days. I'm glad I was able to learn first hand how that enema can heal you wow!
However, as Jay experienced, either ramp-up the dosage slowly, or watch out for the die-off (Herxheimer Reaction) effect.
I'm sorry I can't give you quick instructions here for how to implement Jini's Probiotic Retention Enema – the probiotic sections in my two books; Listen To Your Gut and Listen To Your IBS are over 30 pages long. This is because people with IBD (and severe IBS) need a good understanding of probiotics before they start dosing. If they don't have all the detailed information on what to look for, how to proceed, etc. they risk triggering a flare. I do offer a complimentary Probiotic Report to get you started in this area of treatment. But for full and complete instructions, you really do need to get one of the books – remember, they both come with a 1 year guarantee (including return postage) so the risk is pretty minimal to try it out.
STOP PRESS!!!!
Okay SO MANY people have requested the Probiotic Retention Enema instructions (and my Wild Oregano Oil Protocol) I have now made both of these available as an E-BOOK, so just click here and I'll send you both Jini's Probiotic Retention Enema and Jini's Wild Oregano Oil Protocol, in E-book format, for only $4.95

For those of you who haven't heard about these protocols before, here's what each of them does:
Jini's Wild Oregano Oil Protocol
This protocol is based on Inflammatory Bowel Disease being an infectious disease (or having an infectious component).