In this video, Jini and Dane talk about probiotics, their personal healing journeys, and general gut health:
Some of the topics Jini, Dane discuss about probiotics during this conversation are:
How probiotics are the new money makers
How to start with probiotics
How to adjust the dosage
How to start slow
Benefits of taking the powder with growth medium
How to take away from probiotics
Which probiotics are worth the investment
How long do probiotics last
Gut Flora
What is microbiome
About Nature
What are super strains
Benefits of dairy-based probiotcs
Dairy sensitivity
Getting started with raw milk
Dairy is a choice
If you liked this post, you will also like: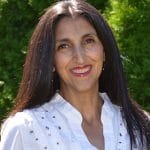 Jini Patel Thompson is an internationally recognized expert on natural healing for digestive diseases. She healed herself from widespread Crohn's Disease and has remained drug and surgery-free for over 25 years. Jini has appeared on numerous podcast, TV, and radio shows throughout the U.S., U.K., Canada, and Australia, giving people hope and vision for how they can heal their Colitis, Crohn's, Diverticulitis and Irritable Bowel Syndrome (IBS), using entirely natural methods. Her books on natural healing for digestive diseases have sold worldwide in over 80 countries.