Sometimes we get queries from my readers about changes in some of the natural protein powders and Absorb Plus elemental shakes: They taste different, the texture is different, it's more fluffy, or less fluffy, the color is different, etc.
But here's the thing with natural products – the ingredients can vary with the seasons, weather patterns, hormonal cycle of the cow (for whey protein). You might notice that our Sun Warrior sprouted rice protein states right on the label:
"Color, texture, flavor and other traits may vary. We always aim for perfection, but Nature likes variety, and who are we to argue?"
Recently Imix let us know that a recent batch of Absorb Plus contains a fluffier whey protein, so they increased the scoop size from 47 cc to 50 cc. So it's okay for ingredient taste, texture, color, etc to vary, but it's also nice to know that manufacturers have good quality control procedures in place, to make sure we still receive what's promised on the label!
Any questions, just post them below…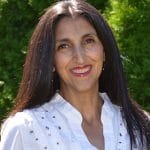 Jini Patel Thompson is an internationally recognized expert on natural healing for digestive diseases. She healed herself from widespread Crohn's Disease and has remained drug and surgery-free for over 25 years. Jini has appeared on numerous podcast, TV, and radio shows throughout the U.S., U.K., Canada, and Australia, giving people hope and vision for how they can heal their Colitis, Crohn's, Diverticulitis and Irritable Bowel Syndrome (IBS), using entirely natural methods. Her books on natural healing for digestive diseases have sold worldwide in over 80 countries.