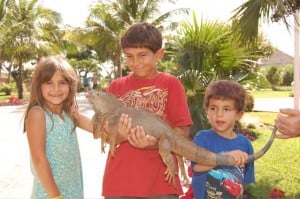 Some readers have asked about whether it's safe to use L-Glutamine with children, based on an article that appeared on Dr. Joseph Mercola's website. But again, read through it carefully and you'll see that this is only an issue when intake exceeds need. Otherwise, there is no excess and the body utilizes it fully.
Also, in this article he completely warns against any L-Glutamine intake by pregnant women as it can cause retardation. However, I drank 1-2 Absorb Plus shakes per day (containing 1000 mg L-Glutamine in each shake) during both my pregnancies and breastfeeding. Both my children's teachers are amazed at their quickness and intelligence and they consistently outperform many of their peers in both physical and mental function.
And one of my readers used The IBD Remission Diet for seven weeks during her pregnancy (to avoid having to use Prednisone), which meant she was drinking 4-5 Absorb Plus shakes per day (4,000 – 5,000 mg L-Glutamine per day) and her baby was perfectly healthy with normal brain development. The last time I heard from her, the baby was three years old and doing very well in all aspects.
Remember too that this article is just one professional's opinion – and while it is worth reading, the majority of professional opinion and clinical trials in children show no adverse effect for appropriate L-Glutamine supplementation.
Here's the result of my research and my personal opinion on the topic:
Kids with sickle cell anemia need higher amounts of L-glutamine. So this study assessed response/effects with a massive dosage of 600 mg of L-Glutamine per 1 kg of body weight. Which means, for example, that a child weighing 44 pounds would ingest 12,000 mg of L-Glutamine per day. Even at that very high dose, this study (below) on children as young as 5 years old showed no negative effects of supplementation.
STUDY #1:

Oral glutamine supplementation decreases resting energy expenditure in children and adolescents with sickle cell anemia. J Pediatr Hematol Oncol. 2004 Oct;26(10):619-25. To determine the effects of orally administered glutamine on the resting energy expenditure (REE) and nutritional status of children and adolescents with sickle cell anemia. Twenty-seven children and adolescents (13 boys, 14 girls), 5.2 to 17.9 years old, received orally administered glutamine (600 mg/kg per day) for 24 weeks. Measures of REE and other nutritional parameters were compared at baseline and 24 weeks.

RESULTS: After 24 weeks, the patients' median REE (kcal/d) decreased by 6%. Patients with less than 90% ideal body weight had even greater declines in REE after 24 weeks. Improvements in nutrition parameters and in two amino acids in the plasma were observed.

CONCLUSIONS: After 24 weeks of orally administered glutamine, children and adolescents with sickle cell anemia had a decrease in REE and improvement in nutritional parameters. Those who were underweight had a greater decrease in REE than those of normal body weight. Lowering REE may be an effective way to improve the growth of these children and adolescents.
********************************
As well, a few studies I looked at concerning L-Glutamine used on children with cancer (to prevent mucosal inflammation during chemo) showed only positive effects.
L-Glutamine is only a problem when you ingest MORE than your body needs, or can utilize. For anyone in a disease state, their requirements are going to be much higher since the body is engaged in ongoing repair of damaged tissue.
And just for another counter to the claim that L-Glutamine can cause mental retardation, I found a few studies done using L-Glutamine with Attention Deficit Disorder children, that show that supplementation INCREASES mental ability. Here's one example:
STUDY #2:

"Intellectually impaired children and adults often show an increase in IQ after taking glutamine in combination with Ginkgo biloba and B6. Dr. Roger Williams demonstrated that children and adults diagnosed with ADHD showed a marked improvement when taking 250 mg to 1,000 mg of glutamine daily. Dr. C. Fredericks research also demonstrated a definite increase in the IQs of children given glutamine. When glutamine was given daily, children showed impressiv