Our Herbal Tea section at the Shoppe includes a number of my favorites – here's what we carry and why I like each of them and/or how I use them: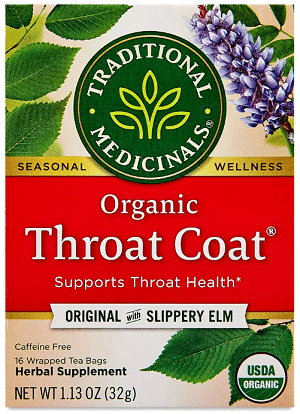 Traditional Medicinals Throat Coat Tea (Caffeine-Free)
This tea contains slippery elm and marshmallow root; two herbs that are soothing and healing for the gut lining. Likewise, they also soothe the mucous membranes of the throat.
I've been giving this tea to my kids since they were babies (I would just put it in a bottle for them), whenever they had a cough or sore throat.
Numi Rooibos Tea (Caffeine-Free)
Also called Red Tea, Rooibos is an herb indigenous to the Cederberg region of South Africa. It has a deep, earthy vanilla taste, is rich in antioxidants and known for its calming affects. Made from pure, broadleaf tea harvested from 500 year old wild tea trees, it contains no caffeine and is great at bedtime.
This pure rooibos tea contains nothing other than the leaves from heritage trees; which naturally have a vanilla undertone. Despite being good for bedtime as well, this is actually my go-to breakfast tea. It tastes just as good plain as with a splash of almond milk. I easily drink 3-4 cups of this rooibos per day.
Numi Honeybush Tea (Caffeine-Free)
Numi is a special tea company in that it doesn't use flavoring oils in its teas, but instead flavors its teas with whole dried fruits, herbs, spices and flowers.
Honeybush is similar in taste to rooibos, except it's a lighter, milder taste and it has a hint of natural sweetness to it. This is my favorite tea to drink in the evenings, or over ice.
Numi Matcha Toasted Rice Green Tea (Caffeine)
Please note that green tea does contain caffeine in it. I first experienced this particular kind of green tea with toasted rice when I was living in Tokyo and I was instantly taken with it!
I know it sounds odd, but it doesn't taste of rice at all – instead it tastes like the best green tea you've ever had with a nutty