When you have a sensitive or malfunctioning gut, vegetables can often pose a problem, or be difficult to digest. The key is to test your veggies, or start by eating just a small amount (well-cooked) and gradually increase.
In extreme cases, you may need to puree your vegetables. Just like using elemental shakes to heal your gut by taking it back to breastmilk stage, cooked pureed veggies also take our gut back to baby stage.
So you can easily puree both the first and last recipe here, if you need to, but remove the garlic before pureeing.
Garlic Veggie Stir-Fry
Chop the following into bite size pieces/slices: peeled carrots, celery, unpeeled cucumber, red pepper. Stir-fry together with 50/50 olive oil and butter/ghee (or coconut oil) and chopped garlic (leave garlic whole or in large pieces if you need to remove it for gut tolerance). Sprinkle with sesame seeds before serving.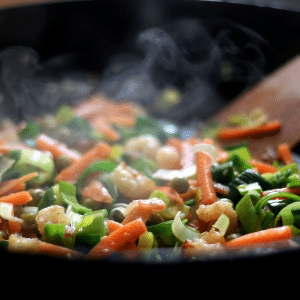 *I couldn't believe it when all 3 of my kids ate this dish when they were young – even the 5 year old! The garlic with the butter and olive oil makes this seriously more yummy than you'd think.
Serve as a side dish with your protein source, or noodles, or with rice.
Note: You may not have considered cooking unpeeled cucumber before (in bite-size chunks) but this is commonly done in oriental cooking and tastes absolutely delicious. Obviously, cucumber has a very fast cooking time.
Veggie Miso Noodle Stirfry
3-4 servings Soba (buckwheat) or other GF noodle
1 tbsp lemon juice
2 cloves minced or chopped garlic
1 tbsp fresh ginger (in large pieces so can be removed easily if you wish)
1 tbsp cold-pressed sesame oil
1-2 handfuls of spinach or baby kale or swiss chard (add more if you like more)
Sauce:
2 tbsp miso (light-colored, not red or dark miso)
1/4 cup mirin (sweet cooking sake – rice wine – alcohol will evaporate with cooking)
1 tbsp rice vinegar (omit if you don't do well with vinegar)
1/4 cup chicken broth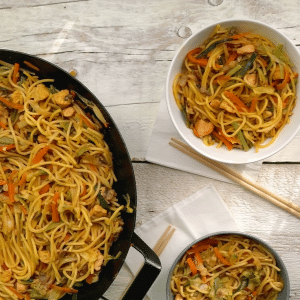 Veggies: if greens are not tolerated (or for variety), then add unpeeled cucumber or cooked green beans, and/or cooked asparagus in bite-size pieces.
1. Cook the noodles in boiling water (follow package directions)
2. While the noodles are cooking, mix the sauce in a medium large saucepan, add the garlic and ginger to the sauce, and heat to just below boiling. Note: the high heat cooking will evaporate off the alcohol.