I want to share with you my all-time favorite flower essence from LotusWei. This blend of gemstone and flower essences (energy medicine) is called Infinite Love:
If your soul, body, emotions are crying out to be held in the arms of infinite, unconditional Love – then this flower and gemstone essence carries that vibration. As I breathe it in, I feel a sense of peace and calm descend on me. I exhale and I usually start spontaneously to smile. It makes me that happy, and feels that… perfect!
Not only is this my favorite mist and anointing oil from the LotusWei flower essence collection, but every single person I've gifted it to adores it.
I like to spray the mist on my face in the morning (if you wear make-up it's a nice finish to set your make-up) and also last thing before bed – so I drift off to sleep surrounded by the vibration of infinite, unconditional Love.
I usually layer it with the Infinite Love Anointing Oil – which is basically a natural perfume – and when people hug me they always exclaim, "You smell so good!"
It's not cloying, or sweet – it's basically the most perfect blend of flowers I've ever smelled. My husband Ian loves it too and keeps one on his bathroom sink. Here's the flower and gemstone magic contained in Infinite Love:
Sometimes I bring this blend out to my barn and my big Belgian mare, Audelina, loves it as much as I do. She will stand motionless with her nose in my neck, just breathing it in.
As you can see in the video, if you have a pet (or friend!) who's come from scarcity or poverty, then share this energy medicine with them too. We could all use more infinite, unconditional love in our lives.
Free Gift!
To start welcoming and resonating with the power of flowers in your life, Katie Hess (owner of LotusWei.com) has gifted us these beautiful flower medicine images for your computer or device.
Right-click and Save As…THIS LINK TO DOWNLOAD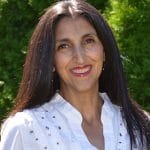 Jini Patel Thompson is an internationally recognized expert on natural healing for digestive diseases. She healed herself from widespread Crohn's Disease and has remained drug and surgery-free for over 25 years. Jini has appeared on numerous podcast, TV, and radio shows throughout the U.S., U.K., Canada, and Australia, giving people hope and vision for how they can heal their Colitis, Crohn's, Diverticulitis and Irritable Bowel Syndrome (IBS), using entirely natural methods. Her books on natural healing for digestive diseases have sold worldwide in over 80 countries.