Ever feel like you're the only one on the path of natural healing?
Or maybe you're thinking about getting off the drugs and asking for more out of life, but you're unsure. Perhaps it seems like such a longshot…
Here's a video clip from Reid B. Kimball – who's working on a documentary film about successful alternative healing methods for Crohn's and colitis – where he interviews some people who are getting MORE out of life by using natural healing methods (hint: recognize the last person, at the very end of the video??):
WANTED: Crohn's End – Palm Connections Trailer
Reid Says: Based on interviews I've done so far, these are the core principles I see many using who overcome their diseases:
1. Change your mindset, believe you have control over your health and can overcome the disease.
2. Change diet and lifestyle choices.
3. Use probiotics.
Less common but important principles followed by people:
4. Use a natural antibiotic.
5. Heal the intestines.
If you'd like to learn more about Reid's film project – and perhaps even support his efforts, here's another video for you (hint: recognize the song at the end of this next vid??)
Soar higher,
Jini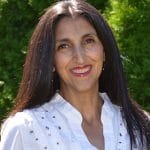 Jini Patel Thompson is an internationally recognized expert on natural healing for digestive diseases. She healed herself from widespread Crohn's Disease and has remained drug and surgery-free for over 25 years. Jini has appeared on numerous podcast, TV, and radio shows throughout the U.S., U.K., Canada, and Australia, giving people hope and vision for how they can heal their Colitis, Crohn's, Diverticulitis and Irritable Bowel Syndrome (IBS), using entirely natural methods. Her books on natural healing for digestive diseases have sold worldwide in over 80 countries.