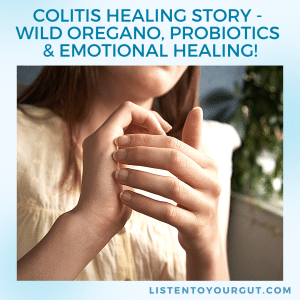 I want to re-share this email from a reader because it gives such a great example of a Healing Journey. We also get to see how hard things can get before we're ready to do what it takes to invest in our healing. Lastly, it's a great example of how crucial emotional healing is – and not a step you can skip!
Notice how she really turns a corner a few months after the Tapping sessions and her healing continues as she leaves a toxic job. Healing emotionally so that we can ask for help, or take time for ourselves is a huge part of healing, and it's something you can get started on easily with this recorded Tapping Session.
One other thing I would like to call attention to is where she writes: "I was unable to follow a vegan diet because my body craved meat, seemingly as if it was just crying out for protein." Yes! Wound healing takes a tremendous amount of protein. But even if her body did well on a sprouted vegan protein source, the type of B12 that is only found in animal products is still absolutely crucial for healing.
So let's delve into this brave woman's story and hopefully, it will give you some ideas and encouragement…
"Firstly, thanks for Listen To Your Gut, such an informative and warts-all guide for people facing a range of digestive disorders and challenges.
I was diagnosed with indeterminate colitis in March 2016 and, despite being told not to search online regarding the condition (the consultant's advice) this is precisely what I did. After all, I had almost one month off work, and I wanted to invest as much time being proactive about my health as possible. I came across Jini's elemental diet and bought the book The IBD Remission Diet.
It's worth backtracking a little, to explain how I had arrived at this point.
Fortunately, I am someone who has never experienced poor health throughout my life. I have always been very reluctant to take any medications and was never the sort to resort to a painkiller, at the slightest hint of pain. But, after a very stressful period in my life, which stretched over two years, I started to feel extreme fatigue and my stomach seemed to constantly complain, regardless of what I ate. I had an acidic gut, which would just somersault and make noises, no matter what. It was the sort I once had when I went to Egypt and picked up an infection which left me with diarrhea for several weeks after I returned home.
In February 2017 I went to see my GP because what looked like a spider bite had appeared on my right shin. It got redder, angrier and larger and didn't respond to antiseptic cream, salt baths, antihistamines or anything really. After this appeared, about two weeks or so later, I was having bouts of diarrhea, having been quite constipated prior to this. But what spurred me to go to my GP was more the fact that the diarrhea was so yellow and watery – I'd never had anything like this before. He recommended a colonoscopy which was arranged under the NHS 'two-week rule' and so I was seen quite quickly. Having said that, I was still working full-time but, to go to work and run to the bathroom so frequently, was awful. I started to lose weight too, as I found it hard to eat or keep anything down. Everyone asked me if I was ok, as clearly, I was beginning to not look ok. I had a rather grey-ish tinge. I was open about the fact that my health was not great and discussed this with my colleagues, who were all very sympathetic, but I never gave my condition a name, simply because I believed it would be a temporary condition and I didn't want it to define me.
So, back home and now signed off ill with ongoing diarrhea and indeterminate colitis (which was never explained by my doctors) I researched and took the azacol, as prescribed. After about a month, I felt well enough and my bowel was stable enough to return to work. Meantime, the red bite had been joined by other red wheals and diagnosed by my GP as erythema nodosum. The wheals flattened after a while, stayed red, and then gently faded. I was told there was nothing to do but wait for them to subside of their own accord. I was also getting very red, bloodshot eyes. A sight to behold! I'd say the erythema had a cycle of flaring and then fading over a period of 2-3 months.
I was then prescribed azathioprine, but my liver soon complained, and my GP advised me not to take it any longer. While my diarrhea was nowhere near as bad as it had been, I still felt extremely fatigued and found it hard to get through the working day. I found most weekends I was exhausted and needed to build in rest time during the afternoons (something that would have been unthinkable to me, prior to this).
A few months after the onset of my illness, I tried following Jini's guide, to formulate my own milkshake plan, as I was so convinced that this illness had somehow found me by mistake and was clearly going to go away (I was convinced of this) at some point. Sadly 'though, I even found these hard to stomach. It might have been that I had developed a sensitivity to milk (whey, casein, whatever) as every time I consumed one, my gut somersaulted and was upset. I was also, by this time, so low in weight, it was hard to know what was causing what. Being so ill, tired, and fatigued, I felt like I went around in circles and couldn't separate out what might be ok for me, versus what compounded my issues. I managed to get through the year, taking azacol on a fairly irregular basis and through sheer determination to get on with life. I would even ask colleagues to help carry my rucksack at work as I found it too heavy! I continued to work full-time, firstly, to keep a normal routine, as the option of being home alone seemed too much to bear and also because, without a job, I would not keep the roof over my head. I soldiered on and worked hard to do my job – even if I had to work from home on some days, I still put in my hours, as I was keen to show that I had not been beaten. I did understand Jini's sentiment of not working through such a debilitating illness but I just had to do this.
I think, with hindsight, you could say I had a couple of flare-ups throughout the year and I ended up in December 2016, admitted to A&E, where I stayed for 3 nights. Sadly, no gastroenterologists work at weekends and, as I was admitted on the Saturday, the consultant in charge, had me pumped full of cortisol, part of a holding pattern, until the gastroenterologist arrived on Monday. The IBD nurse arrived at my bedside explaining I would be given steroids and they would see how I fared before trying another drug, similar to azathioprine. I was desperate to leave the hospital of course and arrived home a few days before Christmas. I felt extremely feeble, but my bowel was more stable, and the steroids helped to rein in (but not get rid of) my nausea and vomiting. In fact, it's interesting to note that the gastroenterologist said my nausea/vomiting was quite rare but, reading forums on various websites, it appeared that a lot of IBD sufferers are affected similarly.
2017 passed in a fashion not dissimilar to the year before but, I was still convinced I would overcome my health challenge. I was also keen to try the IBD Remission Diet, this time making more effort to follow it to the letter, get the formula right, and so on. I fared ok in early 2017 and, having been on the steroids felt stronger, as a result of weight gain. However, I had a setback with another health issue in March and by April, the cycle of erythema, followed by chronic diarrhea had set in again. This time, I found a fantastic acupuncturist who helped greatly to release the erythema and cut the cycle enormously. She was also so positive and was the first practitioner to advise me what would be best to eat, she really helped me, physically and emotionally, to stay with my own program of treating my condition naturally and to keep reminding myself I would heal.
I passed another Christmas feeling pretty dreadful, experienced weight loss again and was put on the merry go-round of azacol, steroids, and 'what drug can we try next'. In 2018 I took M-6 or mercaptopurine for 11 weeks but gave up, due to horrendous joint pain and dizziness. I started to follow a gluten-free diet and the stomach cramps and discomfort subsided quite quickly. Dairy was taken out of my diet next, but I made a huge effort to keep calcium levels up and took supplements, as well as liquid iron supplements. I was unable to follow a vegan diet because my body craved meat, seemingly as if it was just crying out for protein. I decided to bite the bullet and ordered Natren's Healthy Trinity Capsules, simply because the powder was too expensive at that time.
After about a month, I started to follow the oregano oil protocol but could get nowhere near the 30 drops a day level. Instead I managed just 5 drops a day, for a couple of months. After taking a short break in Spain and requesting steroids (budesonide), I had a stop gap to keep me on track while I was there. Then I returned home and told the consultant I would not take the methotrexate he was recommending and that instead, I would manage without drugs. He called me irresponsible and yet, somehow, I knew I was doing the right thing. I invested in the Natren powders as I returned from Spain and found after about a month (July/August 2018) things were improving on a cellular level. At least, that's how it felt to me. I tried the diarrhea protocol but found the bentonite was very strong and somehow, I think it was wiping out the good done by the probiotics, so I stopped taking it. I then managed to gradually increase the oregano oil to 15, 20, 25, and then 30 drops a day. In October, it really was the calm before the storm because I knew I was getting better (stronger) in some ways but my God, I felt awful. Truly awful. A real detox was happening. I had always felt and had said many times to my consultant that I felt infected and looking back, that's exactly how my body behaved. Like it was defending itself from a foreign invader.
It's also worth mentioning that, taking heed of the emotional element of the illness that Jini addresses, I invested in some online tapping sessions. Wailing out loud in my living room became a common occurrence throughout last summer, but it felt enormously uplifting too. I laugh now that I look back at it but, it's so true, something that seems so straightforward is enormously powerful, in shifting emotional baggage you don't even realize is there!!
In November last year, I turned a miraculous corner. 30 drops of oregano oil per day plus Natren powders, as prescribed, a sensible diet and a change of heart towards stressful situations, plus asking for support where I need it and suddenly my energy levels soared, my eyes took on a shiny glow and I was going to the toilet normally!! Sad, but true, but when it first happened, I wanted to phone my Mum and say, You'll never guess what?
Since then, I've been able to broaden the foods I eat, to include some dairy and gluten and I can report that everything is being tolerated well. I now feel ready to get on with life and am looking for new work, having left a job where the bullying and back-biting were bringing me down.
I have moved into phase two of the protocol – 5 drops of oregano oil per day, plus a Natren capsule at night. Despite getting over the infection quite quickly, I think I wanted to err on the side of caution and give my body plenty of time to heal. I'm monitoring how I feel and am all too-aware that pushing the boat out say, eating quite spicy food, can be too harsh for my system, at this early stage.
I would like to send Jini and all the team at LTYG a big virtual hug for helping me to find a way through what has been the most difficult period of my life."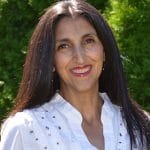 Jini Patel Thompson is an internationally recognized expert on natural healing for digestive diseases. She healed herself from widespread Crohn's Disease and has remained drug and surgery-free for over 25 years. Jini has appeared on numerous podcast, TV, and radio shows throughout the U.S., U.K., Canada, and Australia, giving people hope and vision for how they can heal their Colitis, Crohn's, Diverticulitis and Irritable Bowel Syndrome (IBS), using entirely natural methods. Her books on natural healing for digestive diseases have sold worldwide in over 80 countries.