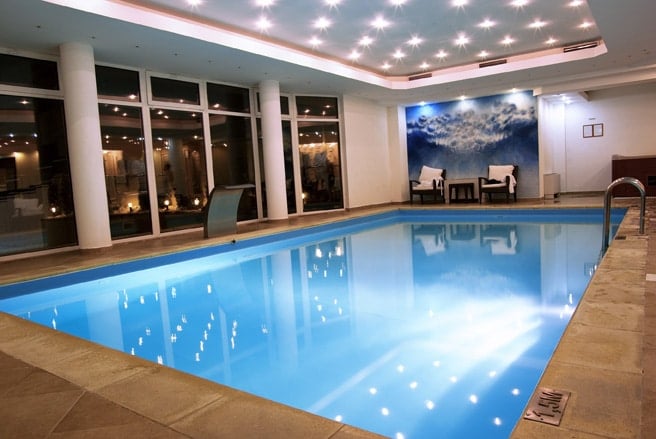 Following on from my search for utopia post: If we stay year-round in White Rock, then my hubby would like to add an indoor pool to our house. An excellent idea since he and the kids swim every day when we're near a pool or ocean. We also could combine my solarium idea with the indoor pool space.
However, chlorine is a highly toxic, damaging substance – both for our bodies and the environment. So I've begun researching alternatives.
Dr. Joseph Mercola's site is great for this since he has a feedback section where we can hear from actual pool owners. There's no substitute for personal experience in my opinion. The following information is gleaned from the community feedback on Mercola's site and some of the recommended websites themselves. Since most of the information below is quoted, rather than italicizing the quotes, I have italicized my comments instead. Mercola recommends Ozone as the best system, however in the comments section by pool owners, many say it is not ideal and that they have found better systems.
Here's what some people say about salt water pools:
"Salt water pools only server to maintain chlorine levels through the use of a salt-water chlorinator. I have one of these. The salted water passes through the auto-chlor device to generate chlorine. This reduces maintenance somewhat but it is still effectively a chlorinated pool…."

"Just a little clarification regarding salt-water "chlorine-generated" pools. What they do is convert salt "NaCl-sodium chloride" into chlorine gas. This is done by electrolysis through a "cell" which has metal plates (often Titanium). This chlorine gas, when mixed with water (H2O), produces hypochlorous acid (HOCl). Hypochlorous acid is the killing form of chlorine. Sodium Trichlor, Sodium Dichlor, Sodium Hypochlorite (Liquid Bleach), Calcium Hypochlorite and Lithium Hypochlorite all produce hypochlorous acid as well."
Now regarding ozone systems:
"I've found that ozone alone doesn't provide a problem free pool. Ozone must continually be manufactered or else is will dissipate within minutes. It is an excellent oxidizer, no doubt, and the most potent at that (100%), but it is not a sanitizer. Without a sanitizer you can't control the pool becoming cloudy and/or algae infested when you've got hot summer days and a pool full of kids every day throughout the season. You definitely need to use an ionizer or something else to sanitize your pool."

Very useful advice here – they recommend a ceramic pool rather than cement or gunite pool:
"The pool I have is a ceramic pool so it will never get algae because there is nothing for it to grow on. Algae is only found in cement pools. Because the ceramic pool is non-pouros and a cement pool is. Also, the long-term maintenance is 10% of a cement pool.
It comes with a lifetime waranty on the structure and 7 years on the surface. Although I've heard you should never have to have it resurfaced. And I was also advised never to empty it. Yes, I never have to empty it. A friend of mine has had his cement pool for 5 years and recently had to have it re-surfaced at a cost of $7500.00. It isn't really very big either. Maybe 15,000 gallons."
These seem to be the top non-chlorine systems recommended by pool owners:

1. Ecosmarte – combines Copper Ionization with Oxidation
"I would recommend looking into an Ecosmarte system. It is a non-chemical approach that produces excellent results. The only thing you have to really adjust with this system is the ph, but an automated system is available that will do this for you. The ECOsmarte system creates two sanitizing agents, copper ionization and liquid oxidation. As water flows from your pump back to your pool it travels through the ECOsmarte ionization/oxidation chamber. While in the chamber, the water will either receive copper ions or become oxygenated depending on the setting of the switch on the controller, producing crystal clear pool water that is as safe to drink as bottled water.

A tidbit of info: The Ecosmarte pool system is and was actually used at the olympic pool in Athens during the Olympics. It is a zero-chlorine system that is safe and creates no harmful by-products for you or the environment. This technology has been growing in popularity for the last 12 years. It is still relatively new, but proven effective worldwide. It's like swimming in crystal clear bottled water….

Copper and silver ionization will kill all the nasties in the water, but without oxidation present, the organic material in the water will not be handled. Chlorine is an oxidizing agent, but comes with a high price of toxic by-products. The most important part of the formula that makes Ecosmarte's technology special is oxidation.

I perfer the copper ionization for overall performance. Below is a summary of popular water treatment technologies from a vendor, but I agree with it based on my 20+ yrs in the environmental field. A lot of my work has been in air quality, and I do not believe that any form of ozone treatment is "healthy" if there is the potential to breath it. In the water-OK; in the air-NOT OK. My wife is a respiratory therapist of 20+ yrs and also agrees.

CHLORINE – A greenish-yellow, poisonous, gas with a suffocating odor, widely used as a disinfectant. Chlorine is toxic and will burn your eyes, irritate your skin and damage hair.

BROMINE – A dark reddish-brown fuming element with a suffocating odor. A chemical which reacts like chlorine but is not as abrasive to humans. Has benn banned by the Provincial Board of Health of Alberta because 95% of the spa-related skin irritations came from spas using Bromine.

OZONE – An unstable form of oxygen with a pungent odor. Ozone is fast acting but leaves no sanitation in the water to combat bacteria and algae growth. Must be used in conjunction with regular shock treatments of Chlorine. It will dissolve rubber washers in pumps, filters and pool fixtures resulting in leaks and potential costly repairs.

SALT WATER DEVICES – Devices that utilize salt create a chemical reaction which actually mmanufactures chlorine in your pool. The chlorine then produces the same reactions that regular pool chlorine does.

HYDROGEN PEROXIDE – Products are non-toxic and not unhealthy but neither are they healthy. Hydrogen peroxide is the most expensive way to disinfect your pool especially when you have to shock (??vendors opinion)

COPPER IONIZATION – Developed by NASA, it is probably the least expensive disinfecting method & one of the easiest to maintain and monitor…."
2. ChlorFree-AquaSmart
This is a system recommended by numerous pool-owners in Florida:

"THERE ARE SEVERAL SAFE AND EFFECTIVE ALTERNATIVES ON THE MARKET OF WHICH WE HAVE SINCE DISCOVERED. NATURE-2, FLOATRON AND NON-ELECTRIC ION GENERATORS IS AN EFFECTIVE ALTERNATIVE.

UNLIKE OZONE, IONIZATION PROVIDES A LONG TERM RESIDUAL BACTERICIDE AND ALSO HELPS TO ELIMINATE DUST, DIRT AND IRON PARTICLES FROM THE WATER.

SINCE MANY PUBLISHED ARTICLES SUGGESTING TO LIMIT OUR EXPOSURE TO CHLORINE, WE OPTED TO REMOVE OUR SALT GENERATOR FOR THE CHLORFREE-AQUASMART IONIZING CAPSULES. THIS SYSTEM IS EASY TO USE AND WE HAVE BEEN VERY SATISFIED WITH THE RESULTS OVER THE PAST 7-YEARS. …

OUR FAMILY HAS BEEN USING CHLORFREE IONIZING CAPSULE FOR OUR POOL FOR 7-YEARS WITH WONDERFUL RESULTS. THE COMMUNITY OF FLAMINGO BEACH HAS ALSO BEEN USING THEIR IONIZING WATER PURIFICATION SYSTEM FOR AS MANY YEARS IN PLACE OF CHLORINE. I RECOMMEND THIS SYSTEM TO ANYONE ADVERSE TO USING CHEMICALS. THEIR WEBSITE IS:

http://www.chlorfree-aquasmart.com

As you'll see, all these 'Ionizing' Systems for the exception of Nature2 or the ChlorFree-AquaSmart Ionizing Capsules, either require a Source for Electricity, Special Installation or as noted with Nature2 and Floatron, are not nearly as effective as the ChlorFree-AquaSmart's Submersible Capsule and none of these Ionizing Systems are recommended for Potable (Consumable) Water except for the ChlorFree-AquaSmart Water Purification System.

The ChlorFree-AquaSmart Philosophy and their obvious Success was built on the "KISS Principal". Keep it Simple and as you see, the ChlorFree-AquaSmart Capsule is Simple to install, Inexpensive and is Easy to use. In my opinion and years of having a Swimming Pool, the ChlorFree-AquaSmart is by far, 'Simply' the Best CHLORINE Alternative compared to any other System available. I know because we've been using their Ionizing Capsules for almost two years in our 8-9 Passanger Jacuzzi with impeccable results.

BTW: They also Purify Water for Large Communities: http://www.aquasmarter.com/ionizing_purification/industrial_water_purification_commercial_residential.php

3. Mimura – this system doesn't seem to be available in North America yet…

"Try the MIMURA Environmental Recovery System …

You may have an inexpensive way to keep your pool virus and bacteria free whilst converting any minerals into organic state.

The MIMURA has been well received in Rotorua and rest of NZ.

It is being used in many spas around Thailand.

The MIMURA has been through rigorous scientific process and is now in use in Japan, Australia and South East Asia in solving the water problems. The contamination taking place all over.

You can further read more on the patent application on the following link:
http://www.google.com/patents/US8110116

The short version is the MIMURA removes chlorine (chloroform) and many other THMs(Tri-halo-methanes) in your water sources. It converts the neutral ions minerals and metals into plus ions state minerals. i.e. Fe++++ , Mg++++

The oxygen is release and recombined with the minus ions H2O. The water cluster is also reduced to nano-scale at (10 to the power of minus 10). The bacteria and virus are in the (10 to the power of -4 and 10 to the power of -5)which makes them bigger than the nano-scaled H20. The minerals and metals depending on their atomic weight and structure is in the range of (10 to the power of -6 and 10 to the power of -8). The range between (10 to the power of -8 and 10 to the power of -9) is in the colloidal scale.

Take for example a bottle filled with marbles. The marbles represent the present scale of water. However you can fill up the bottle of marbles with sand and small pebbles and that represents the virus, bacteria and other pyrogens (dead matter).

If you then add water to the bottle, it still has space for it. The water represents the colloidal level. And finally the smallest level is the H2O that is the nano-scale."
4. Baquacil
"I have used an organic (in the chemical sense) product for many years, called Baquacil.

Baquacil is a hydrogen peroxide based substance – It's just water with an extra molocule of oxygen.

I understand it was first developed as a bactericide for surgeons scrubbing-up.

You can find more about it at
http://www.archchemicals.com/Fed/BAQCIL/

I have no commercial connection with the product, I'm only a user.

Every month or so I use Hydrogen Peroxide to mop up surviving bugs, according to instructions.

As our very small pool is in the house, we couldn't use chlorine anyway, as the smell would be objectionable!

I have had a Baquacil pool for over 2 years; I also added a whole-house clorine filter at the same time. The pool water actually looks & feels 'silky' or 'satiny' now. Since I was having a calcium-buildup problem with the Baquacil pool, a year ago I changed to a whole-house soft water system that eliminated the calcium altogether. No problems since. The pool sparkles and I love not itching nor having straw hair. BTW, I swim every day for 5-6 months of the yearI checked out several alternatives before I made the change, and this one sounded best for me. More info at:
And based on my knowledge, this looks like excellent advice for those times when you *have* to swim in a chlorinated pool:
"I couldn't agree more that chlorine in a pool or in the home is dangerous. Look what it does to hair (especially blonde)…it can turn it a bluish green…yikes! So what is it doing to our bodies? If I had my way, knowing what I know now, my grandchildren would never swim in a public pool, again. However, I know that's just not going to happen.

So, for those of you who have children who swim, shower and bathe in water that is chlorinated, I have some valuable suggestions: For regular baths, use a cup of Epsom Salts… get it from a reliable source, as some brands may contain traces of mercury. Have the child bathe in epsom salts right after swimming. For younger children, you can even mix some epsom salts in a spray bottle and spritz them down, each time they exit the pool.

Magnesium oil is also an excellent product to use before and after swimming, as well as after baths and showers. Or, you can add the magnesium oil to your bathwater (this way it is not itchy at all). A supplement that can be taken before swimming to help detox, is Taurine.

All of these will help to move the toxins out of the body.. I would especially suggest this for people who use indoor pools. Even for those families who own pools and can control how they keep them safe, many children still participate on swim and diving teams. Of course it is best to avoid chlorinated pools and bath water. But unfortunately, for many, the alternative is just not there. Kids love pools…they need to know how to swim and it is a traditional summer pastime. For those who compete on teams, it is a year round exposure. If it can't be avoided, the above suggestions do help…"
***************************************
So if anyone has a swimming pool and has tried any of the above systems, please post your comment below and let me know what you think and share the benefit of your experience….
This company looks to be really good pool contractor in Vancouver, so after I've talked to them (when we get back home in Jan/Feb), I'll post here what our final decision is.
*All the photos of swimming pools in this post are from Trasolini Pools.
UPDATE 2013 – I gotta tell you, nothing has happened on this front! Instead, the kids have joined Crescent Beach Swim Club every summer (right on the waterfront by the ocean – gorgeous) and we have gone to Mexico every Dec/Jan and then Arizona every March. That seems to be holding us, but ya never know… !