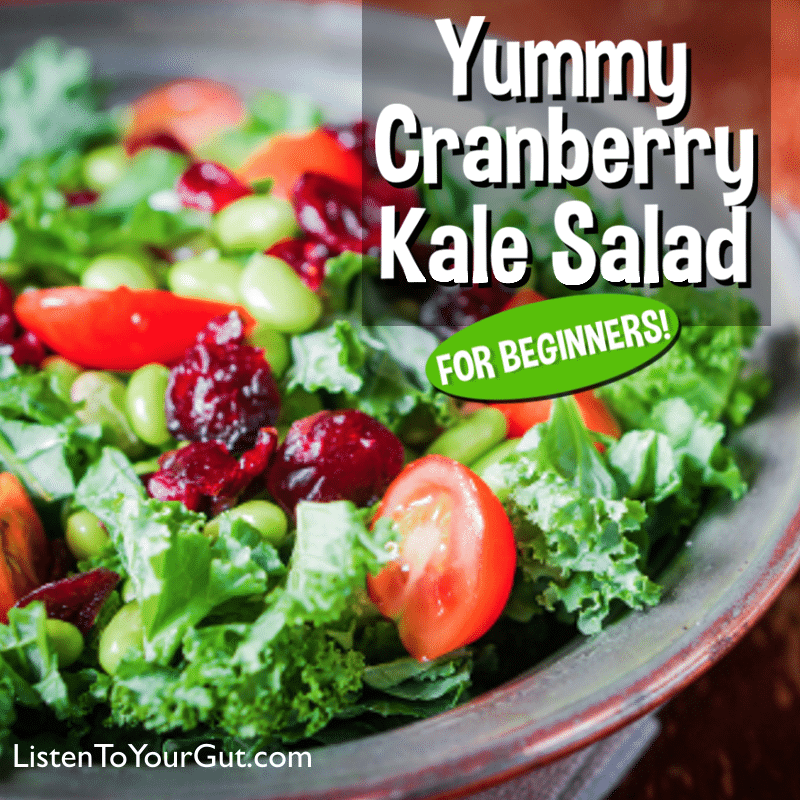 If you're new to kale, or thinking about trying it, or trying to introduce it to your kids, here's a super yummy yet easy salad you can make to introduce it gently. Just use the proportions given and make as large or as small a salad as you wish:
Cranberry Kale Salad
Half kale (stems and any large ribs/threads removed)
Half romaine lettuce
Chopped tomatoes
Chopped cucumber
Chopped avocado
Raisins or cranberries
Crumbled goat cheese or grated raw cheddar
Optional Protein Boost: add flaked salmon, or chopped egg, or diced chicken
– Toss with desired amount of Balsamic Udo's Salad dressing
Balsamic Udo's Salad Dressing
1/4 cup organic extra virgin olive oil
1/2 cup Udo's oil (or cold-pressed flax oil)
1/4 cup balsamic vinegar (or use Apple Cider Vingegar if you really like a pungent vinegar taste)
1/4 tsp. garlic powder
1/8 tsp. onion powder
1-2 tsp maple syrup (or pinch of stevia) – kids like it sweeter
Black pepper to taste
*Note: This dressing keeps well in the fridge for a long time (vinegar is a preservative) – store in a glass jam jar with an airtight lid.
---
Original post October 2014. Most recently updated August 2020.