Did you know that the way you hold your body, sit, stand, and move your body through space, affects your hormone levels?
Yes! Really.
This fabulous video from Amy Cuddy (professor and researcher at Harvard Business School) shows us how and why our body language affects our mind, our mood and yes, even our hormone levels:
"So we know that in primate hierarchies, if an alpha needs to take over, if an individual needs to take over an alpha role sort of suddenly, within a few days, that individual's testosterone has gone up significantly and his cortisol has dropped significantly. So we have this evidence, both that the body can shape the mind, at least at the facial level, and also that role changes can shape the mind. So what happens, okay, you take a role change, what happens if you do that at a really minimal level, like this tiny manipulation, this tiny intervention? "For two minutes," you say, "I want you to stand like this, and it's going to make you feel more powerful."
So this is what we did. We decided to bring people into the lab and run a little experiment, and these people adopted, for two minutes, either high-power poses or low-power poses, and I'm just going to show you five of the poses…"
Enjoy. And share with your kids, your partner, and anyone dealing with chronic illness: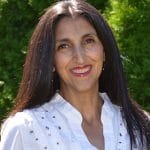 Jini Patel Thompson is an internationally recognized expert on natural healing for digestive diseases. She healed herself from widespread Crohn's Disease and has remained drug and surgery-free for over 25 years. Jini has appeared on numerous podcast, TV, and radio shows throughout the U.S., U.K., Canada, and Australia, giving people hope and vision for how they can heal their Colitis, Crohn's, Diverticulitis and Irritable Bowel Syndrome (IBS), using entirely natural methods. Her books on natural healing for digestive diseases have sold worldwide in over 80 countries.