If you are following the Minimize Gas & Bloating Diet, or the Maintenance Diet from my book, Listen To Your Gut, then this recipe is for great for you! Chock full of yummy herbs, mushrooms, barley (or quinoa) and squash, this is a warm favorite for the approaching fall season – but is sure to please year round.
Also compatible with the Reduce Diarrhea Diet!
As mentioned in Jini's Healing Diet Recipes, the only ingredient in this case which you may want to leave out or reduce in the recipe (possible trigger foods that you may wish to test separately) are the red peppers or the barley (contains gluten) – otherwise the ingredients should be well tolerated.
Also, in line with the Diets, it's best if you can use certified organic ingredients for this (and all) recipes. If you're on the Maintenance Diet, you can increase the quantities of oil, butter, garlic and other spices listed, if you wish – according to your tolerance.

SQUASH & OYSTER MUSHROOM STEW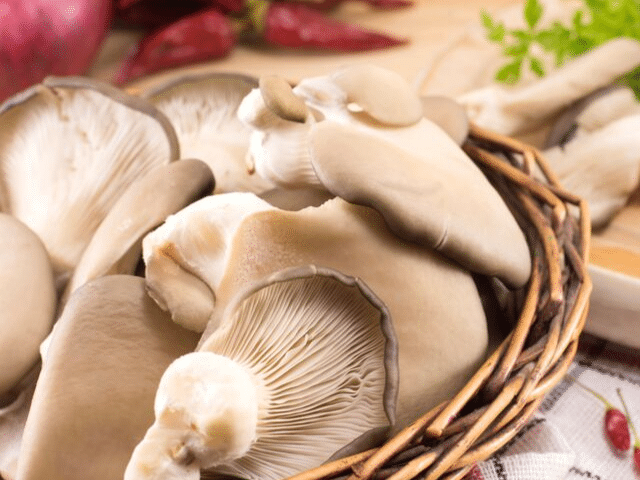 Ingredients:
3 cups brown or cremini mushrooms
3 cups oyster mushrooms
2 garlic cloves, minced or pressed
2 tsp olive oil
1 tsp dried dill (or 2 tsp fresh)
1 tsp dried thyme
1 butternut or other winter squash, peeled, seeded and cubed (2 pounds or about 6 cups cubed )
1 red bell pepper, seeded and coarsely chopped
2 cups vegetable broth, or chicken, or beef broth
2 cups frozen peas
2 cups cooked barley (or cooked quinoa, or, cooked wild or red rice)
2 tbsp apple juice
Salt to taste
*You can use organic canned or store-bought broth for this recipe if you wish, but they will have nowhere near the same flavor or nutrients as homemade! In fact, if you don't want to make the broths yourself, you may prefer to substitute filtered water with an organic vegetable, chicken or beef bouillon cube dissolved in it (Healthy Harvest is the brand I use), rather than using packaged store-bought broths – which often add oil or thickeners. Use one organic bouillon cube for every 2-3 cups of water.
Directions:
Wash the mushrooms with as little water as possible, or brush clean.
Quarter the brown mushrooms. Trim the bottom(s) of the oyster mushroom clump(s) and gently pull them apart into smaller bite sized clusters. Set aside.
In a covered soup-pot on low heat, add the garlic, dill and thyme to the oil.
Add the squash, bell peppers, brown mushrooms and water or stock and bring to the boil.
Simmer until the squash is tender, about 3 to 5 minutes. Stir in the peas and barley.
When the stew returns to a simmer, add the oyster mushrooms, apple juice and salt to taste. Simmer for another 3-5 minutes and serve.
I would love to hear from you if you decide to try this delicious recipe. Please feel free to comment and share your experiences below – and if you have a picture, EVEN BETTER!
If you'd like to share your pictures with us, please email us at service@listentoyourgut.com.
In good health!
---