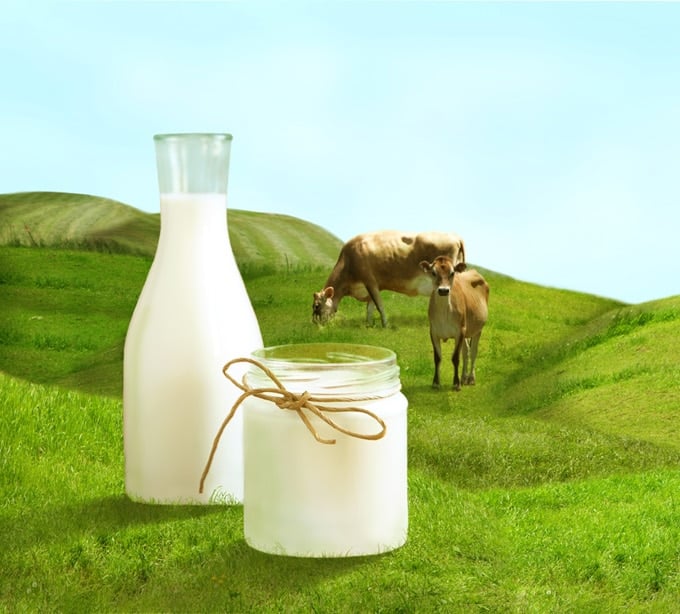 I am beyond thrilled to be able to FINALLY have an outstanding superfood 100% grass-fed whey protein shake for all of you to enjoy and assist you on your Healing Journey. And I'm also going to share with you my favorite shake recipe (scroll down).
But why do I say finally?
Because I have searched for a little over TWO YEARS to find a whey protein that meets my incredibly high standards. As you may know, I don't carry anything in LTYG Shoppe that I don't personally use for myself and my family. So whilst I may be one of the pickiest people in the universe, at the end of the day, we all benefit!
What's so great about this whey protein?
First of all, this whey protein is from entirely grass-fed, hormone-treatment-free, GMO-free cows, who are out on pasture all year long – because they are in South Australia, where it is actually possible for cows to eat grass year-round.
Grass-fed cows have 2 to 4 times the amount of omega 3 fatty acids, and grass-fed whey is also a rich source of CLA (Conjugated Linoleic Acid). When cows are allowed to graze on fresh grass alone their milk contains 3 to 5 times more CLA than milk from grain-fed cows.
The total lactose content for this grass-fed whey is 1 g per 10 gram serving, which is considered below the level for people who are lactose intolerant. Lab analysis also verifies that the whey contains less than 1% non-denatured casein. So it is well-tolerated by most.
I'm happy to report that I do not bloat at all when I drink this whey protein – whereas I will bloat if I drink regular milk, or have a regular whey protein concentrate shake.
Use this Whey to transition off Absorb Plus
For these reasons, this is the ideal product to use when you're ready to transition off the elemental diet and need a replacement for the Absorb Plus shakes. You can add a banana, chia seed powder, flax seed powder or any other non-citrus fruit (papaya, melon, pears, peaches are great) to this whey protein shake and then add your daily supplements and Udo's oil.
Of course, if you don't tolerate whey well, or you want to alternate with a vegetable protein shake, then check out our new veggie protein powders.
The flavoring is also completely natural and I we also stock an unflavored, unsweetened version because I know how many of my readers like their shakes plain.
However, the unflavored, unsweetened whey protein is also really handy for when you make your own protein bars, granola bars, stir into yoghurt or rice pudding (not too hot), or mix into your warm quinoa or millet to get an extra protein boost.
Raw Whey?
Although the FDA requires every milk derivative product sold in the U.S. to be pasteurized (either via heat or ultra-violet/irradiation), this whey is flash pasteurized for only 15 seconds at 72˚C before immediately being cooled to 3˚C. No added heat is used after this point and the whey is then dried using an ambient-air drying method to produce an easy-to-mix whey protein concentrate that does not require the addition of lecithin. So in the USA, this is the closest thing to raw whey you are going to get!
So, although this is technically a whey protein concentrate, it is actually (in terms of usage/tolerance) closer to a whey protein isolate.
Why does it taste so good?
My daughter will often have a scoop of this raw whey protein concentrate, a heaped teaspoon of sprouted chia powder, mixed in a cup of raw milk and she will go train gymnastics for four hours – with plenty of energy.
The flavoring is completely natural and it is lightly sweetened with natural Stevia. We are also carrying the unflavored, unsweetened version because I know how many of my readers like their shakes plain. I have tested this plain/natural version too and if you want to make it chocolate, you just add a teaspoon of pure cocoa powder and a small scoop of stevia and it̵