Okay, I need your help again! Some of you may already know about Dr. Silvio Najt, MD. He's been quite active over at JPT Wellness Circle and I've also been posting some podcasts with him and articles he's shared on this blog.
But for those of you who don't know of Silvio, or haven't heard his full story: Dr. Najt is a board-certified cardiologist, with an additional specialty in emergency medicine. When his daughter was first diagnosed with colitis, of course he went full-speed into medical treatment protocols.
However, like many of us, when he discovered the medical protocols didn't work, he began researching. Although his research focused on the medical sources of information, clinical trials, etc., it was actually another MD in New York who told him to get my book, Listen To Your Gut.
In Silvio's own words (this quote is from Ch. 1 of our new book):
"I bought Listen To Your Gut just as a possible source to help my daughter with the "minor elements" of her illness. I have to admit that from the beginning I had to fight against my "medical prejudice". Jini Patel Thompson was not a physician, but still she was showing a radical way of treating this ailment. It made sense, a lot of sense. But I still had to fight against my medical mindset. As I got deeper and deeper into the book, it completely blew my mind and I decided to finish my "toxic" relationship with the medical world and embrace the "patient world."
So here's where you come in: We need help deciding on the best title for this new book!
It is co-authored by Dr. Najt and myself and we are hoping it will make these healing protocols available to a much larger audience – people who aren't comfortable, or don't feel safe unless a medical doctor endorses it.
But it is not just a re-hash of the protocols in Listen To Your Gut. This book tells the story of Dr. Najt and his daughter's healing journey. It also has an entire chapter on the pharmaceutical drugs used for these diseases – absolutely fascinating info on WHY they are used and what the true effect of these drugs is, on the gut and the body as a whole.
Likewise, Silvio goes into detail, in another entire chapter, about surgical procedures, what's really involved, what the risks really are (as evidenced by the med literature) and when surgery is indicated, but also when it can likely be avoided.
So this book will also be a valuable tool for people who:
Want to really understand what their doctor is telling them (and the important info they're NOT being told!).
Want to combine medical and holistic treatments.
Want to use natural protocols, but are unsure if what they're doing is safe or proven.
Need to have solid data they can take to their GI (and unsupportive family members!) to garner support and provide justification for their treatment choices.
Want to have a more simplified treatment protocol than is contained in LTYG. Listen To Your Gut accounts for every variation or complication and that's why it's nearly 500 pages. But, some people find this too daunting and they want to just have a simple step-by-step protocol to follow. So the refined 5-step protocol in this new book is one I have gleaned from JPT Members and my private consult clients as being successful for the majority of people, about 90% of the time.
Okay, so now you have an overview of what the book is about and who would benefit from it, what should we call it so that the title reflects these elements?
It can have both a main title and a subtitle.
And the author credit will read:
By Dr. Silvio Najt MD
with Jini Patel Thompson
You guys gave me such great suggestions for my book on constipation, that I wanted to get your advice/ideas again. But this time, I don't have a working title already in mind – I'm wide open to any and all suggestions.
And just to make it more fun – let's get some prizes going….
If we use your title, as is, you'll win an ebook and printed copy of the book (when it's published) plus a $100 gift certificate for the Holistic Health Shoppe.
If you have the best suggestion, you'll win both an ebook and a printed copy of the book, when it's ready.
The 3 runner-ups will win an ebook copy of the book, when it's ready.
Sound fun? Silvio and I are ready, so let 'er rip!
Leave your title ideas in the COMMENTS section right underneath…
p.s. when you go to leave your comment you will be asked for your email address (which is not made public) and that's where we'll contact you if you win.
muchas gracias,
Jini
Important note: Dr. Najt passed away in late 2016.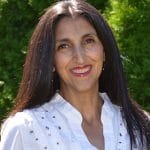 Jini Patel Thompson is an internationally recognized expert on natural healing for digestive diseases. She healed herself from widespread Crohn's Disease and has remained drug and surgery-free for over 25 years. Jini has appeared on numerous podcast, TV, and radio shows throughout the U.S., U.K., Canada, and Australia, giving people hope and vision for how they can heal their Colitis, Crohn's, Diverticulitis and Irritable Bowel Syndrome (IBS), using entirely natural methods. Her books on natural healing for digestive diseases have sold worldwide in over 80 countries.