First, let me say a HUGE thank you to the hundreds of you who sat patiently on my Waitlist for this biz-building program for over a year!!
Secondly, I am beyond thrilled to announce that the program is finally, completely READY. And yes, as per usual, I'm giving you the opportunity to experience it AND move forward to greater clarity and freedom in your life – for free. Just click this link and you can get started:
Any and all feedback is welcome and appreciated!
Here's Ian and me at our favorite breakfast cafe, The Roadhouse Grille, celebrating the completion of over THREE YEARS of effort to bring you this fabulous program that answers the question, "How do I get your life?"
If you've ever thought of working for yourself – even on the side – then come check it out.
And if you already have a business, but you need to take it online, or, it's not generating you the kind of money online that you know it can… likewise, come on over!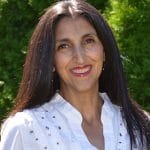 Jini Patel Thompson is an internationally recognized expert on natural healing for digestive diseases. She healed herself from widespread Crohn's Disease and has remained drug and surgery-free for over 25 years. Jini has appeared on numerous podcast, TV, and radio shows throughout the U.S., U.K., Canada, and Australia, giving people hope and vision for how they can heal their Colitis, Crohn's, Diverticulitis and Irritable Bowel Syndrome (IBS), using entirely natural methods. Her books on natural healing for digestive diseases have sold worldwide in over 80 countries.