Over the years, I have received countless emails from readers saying, "You seem to have it all – great kids, a successful business, you're making a difference, you love what you're doing," they  ask,
How do I get your life?
I've also been running a business blog for a few years now, and have been asked questions like this:
"I'm trying to pick ONE educator, who can deliver an A-Z map for a successful online business, vs. continuous upsell. Help!"
Ironically, I answered that question in another blog post, which I closed by saying, "My last thought is: If you think you CAN do EVERYTHING in a business-in-a-box format, and you think someone should, then why don't you do it? And that could be your business." You'll soon see why that was ironic!
Then there are all the emails I've received from readers over the years that broke my heart. People who were ready to heal, they wanted to commit to holistic healing and get off the drug/surgery wheel… but they were too sick to work and they didn't have enough money to buy the supplements, like this one here.
For all these reasons, I'm working on a start-your-own-business program – specifically geared to setting up an automated, home-based business that generates you money via the Internet. When you're chronically ill, or you have small children, or you're already working a full-time job that's sucking your lifeforce energy, you do not have much time in which to set up a business and generate additional income.
And most business training courses (or 'live your dreams' programs) rely on the Rah-Rah factor: Yeah, go for it, you can do it, just go for it! Work 16 hours a day, crush it! Tell that to someone collapsed from exhaustion, who can't get off the couch for more than a few hours at a time. Oh yeah, I know because I too lived that reality for many years.
Tell that to someone who already has a full-time job and cannot quit, but yet their heart is yearning to set up a business that expresses their soul's desire. Tell that to a mother with small children who is lucky to carve out a few extra hours in a whole week.
AND I also know that you can start an online business (automated, flexible) in that state because I ran 2 successful, online businesses that generated me good money too, during the time I was recovering my health and had wee ones. As the photo says above: Balance is the key to life. And good parenting. And a successful business. And great relationships. And lots of FREEDOM.
I've been working on this business training program, based on exactly these concepts, for over 3 years now.
I began by individually coaching other people (who had virtually no start-up cash and were time-restricted due to illness, children, other job, etc.) one-on-one so I could see firsthand the challenges, where they stalled, where they needed more info, etc. My first coaching client quadrupled her revenues in one year.
I've coached 5 different people over the last few years and built the program around what I needed to teach them and how they needed to learn it.
So come check out Listen To Your Freedom and I have a free gift for you there as well – trust me, it's a good one!
Those of you who've been with me for a while, know that I never release anything until it's been tried-and-tested by many others. This is why my return rate is less than 1 percent – I don't release anything until I know for sure that it's going to work.
So now you see why my answer to the blog question mentioned above was ironic! Yes, people DO need an A-Z map, where everything is contained in one program. And only someone who's done it can provide it. Guess that person is me!
LISTEN TO YOUR FREEDOM
Live FREE. Do what you LOVE every day. And make MONEY.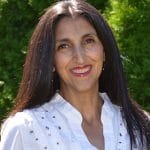 Jini Patel Thompson is an internationally recognized expert on natural healing for digestive diseases. She healed herself from widespread Crohn's Disease and has remained drug and surgery-free for over 25 years. Jini has appeared on numerous podcast, TV, and radio shows throughout the U.S., U.K., Canada, and Australia, giving people hope and vision for how they can heal their Colitis, Crohn's, Diverticulitis and Irritable Bowel Syndrome (IBS), using entirely natural methods. Her books on natural healing for digestive diseases have sold worldwide in over 80 countries.