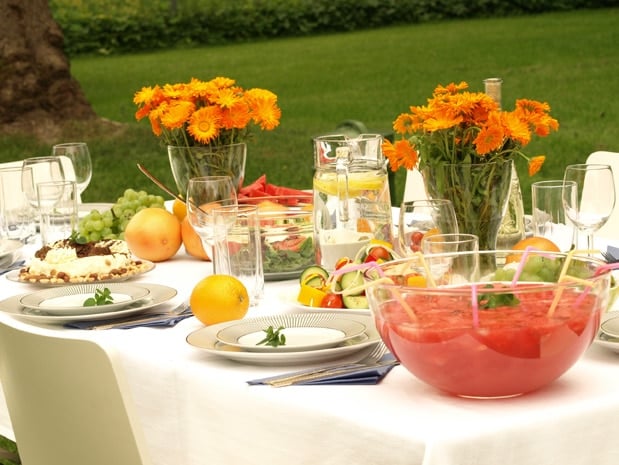 We recently had a joint birthday party at my place with 54 adults and 33 kids. So many people asked for my recipes that I've decided to post them here on my blog.
If you're planning a party, this mix of recipes is ideal because:
1. They can be made over a 3-day stretch before the party, so you don't get exhausted trying to prepare everything within a day.
2. There is a nice mix of flavors and textures – sure to please every palate.
3. Except for the Singapore Meatballs, everything is vegetarian – but equally appealing to meat eaters.
For the kids, I just put out a veggie and dip plate, a fruit plate, a big bowl of plain potato chips and ordered cheese pizza. The kids received no chemicals and their only sugar was a piece of birthday cake and 1 juice box (with their pizza). Hmmm…. do you think that had something to do with the fact that we did not have ONE fight, accident, injury, etc. from 4 pm – 11 pm and all 33 kids (aged 1 – 10) played happily? I know from my own kids, if I feed them good foods (no chemicals, minimal sugar), they don't get crazy!
Anyway, here are the recipes. They are in the normal sized amounts for a regular family or small dinner party, so if you're having a big party, just quadruple the recipes – Enjoy!
JINI'S CAESAR SALAD DRESSING
Ingredients:
2 egg yolks
5 cloves garlic – peeled
juice of 1 lemon
1 tbsp white vinegar
1/2 tsp worcestershire sauce
1/2 tsp salt
pinch of pepper
1 tin of anchovies (50 grams), drained of oil (Millionaires brand works well)
1 cup very finely grated fresh parmigiano (parmesan) cheese from Italy
1.5 cups Italian extra virgin olive oil, at room temperature
1. Put egg yolks, garlic, lemon juice, vinegar, worcestershire, salt, pepper and anchovies in the blender and puree on low speed until liquid.
2. Keep blender running on low speed puree setting and add the olive oil in a VERY thin stream, until all the oil is gone and the dressing is now very thick.
3. Stir in the parmesan cheese.
4. Pour into wide mouth glass jar and store in the fridge. I find this dressing is fine if kept in the fridge for up to 2 months.
Mix well with romaine lettuce and then sprinkle more finely grated fresh parmesan on top. Add chicken or shrimp and you have a meal!
*Note: You must use Italian olive oil, italian parmigiano (parmesan) and very good quality anchovies for this dressing to taste right.
*************************************************************
SUPER CREAMY HUMMUS
Ingredients:
1 (12 oz) can chickpeas
1/4 cup tahini (from roasted seeds)
1/4 cup fresh lemon juice
5 cloves of garlic
salt to taste
Garnish:
olive oil
parsley
chopped tomatoes
1.  First put the tahini and lemon juice into a blender and blend away until it's frothy, white, and creamy.
2.  Add minced garlic and blend it into the cream
3. Open the cans of chickpeas, drain, and rinse them off in a strainer using cold water.
4.  Blend in chickpeas a little at a time until the cream has thickened, but isn't too thick and is still pale. Add salt to taste. If it's too thick, just add some filtered water and blend until consistency is how you like it – I like mine perfectly smooth and creamy.
5. Scoop the hummus into a bowl, sprinkle parsley and chopped tomatoes on top, and drizzle good olive oil over it. It's best if served at room temperature or slightly warmer.
Note: The key to a good, creamy hummus is to emulsify the tahini in a water based liquid (or lemon juice) FIRST. This will NOT happen if you just put everything into a food processor all at once!
*************************************************************
HOT SPINACH ARTICHOKE DIP
Ingredients:
• 1 (14 ounce) can artichoke hearts, drained
• 1/3 cup grated Romano cheese
• 1/4 cup grated Parmesan cheese
• 1 tablespoon minced garlic
• 1 (10 ounce) package frozen chopped spinach, thawed and drained
• 1/3 cup cream cheese
• 1/2 cup sour cream
• 1 cup shredded mozzarella cheese
• salt to taste
1. Preheat oven to 350 degrees F (175 degrees C). Grease a 9×13 inch baking dish.
2. In a blender or food processor, place artichoke hearts, Romano cheese, Parmesan cheese and garlic . Pulse until chopped, but not ground. Set aside.
3. In a medium bowl, mix together spinach, cream cheese, sour cream and mozzarella cheese. Stir in artichoke mixture. Spoon into prepared baking dish.
4. Bake in the preheated oven for 20 to 25 minutes, or until top is lightly browned and cheese is melted and bubbly.
5. Garnish with fresh, diced tomatoes and serve with tortilla chips, or french bread rounds.
*************************************************************
JINI'S TABOULEH
Ingredients:
2 cups couscous (or quinoa if you're GF), cooked and cooled
1 medium onion, finely diced
1 cup chopped parsley
1/2 cup fresh mint leaves, chopped (optional)
1 cup chopped fresh tomatoes, peeled
5 tablespoons (1/4 cup + 1 tablespoon) olive oil
1/4 cup fresh lemon juice
salt to taste
To make 2 cups of cooked couscous:
Bring 1 cup of filtered water to a boil in a pot, along with 1 tsp of olive oil and 1/4 tsp salt. Stir in 2/3 cup of couscous and bring it back to a boil again. Then immediately put a lid on the saucepan and turn off the stove. Leave it sit for 10 minutes and then fluff with a fork and turn it into a bowl to cool off. When cooled, you can use it to make the Tabouleh.
Mix all ingredients together well and refrigerate.
Serve with pita bread, tortilla chips or as a side dish to a main meal.
*************************************************************
UPSCALE CHEESE LOG
Ingredients:
• 2 (8 ounce) packages cream cheese, softened
• 1/2 cup shredded sharp Cheddar cheese
• 3 ounces blue cheese
• 1/2 cup butter, melted
• 1 tablespoon finely minced garlic
• 1/2 tsp. Worcestershire sauce
• 1/2 cup finely chopped fresh black olives
• 2 tablespoons finely chopped green onions
• 1 cup chopped, roasted pecans
1. In a large bowl, mix the cream cheese, Cheddar cheese, blue cheese, melted butter, garlic, and Worcestershire sauce until mixed smoothly. Then stir in the olives and green onions until well mixed. Cover, and refrigerate 30 minutes, until firm.
2. Shape the mixture into logs 1.5 inches in diameter, and roll each in the pecans to coat.
3. Wrap each log in wax paper and then again in plastic wrap (this prevents the transfer of toxins from the plastic into the food).
Store in fridge or freezer
To Roast Pecans: Heat 2 tablespoons olive oil in a large frying pan, at medium heat. Add the pecans and stir constantly until they make a "pop" sound and/or smell like toasted nuts.
*************************************************************
SINGAPORE SWEET 'N SOUR MEATBALLS
Ingredients:
* 1 pound ground beef
* 1 egg
* 1 onion, chopped
* 1 large carrot, diced very tiny
* 1 cup dry bread crumbs
* salt and pepper to taste
* 1 cup water
* 1/4 cup white vinegar
* 1/2 cup ketchup
* 2 tablespoons cornstarch
* 1/4 cup brown sugar or honey
* 3 tablespoons soy sauce
1. In a large bowl, combine beef, egg, onion, bread crumbs, salt and pepper. Roll into meatballs about 1 inch in size.
2. In a large skillet over medium heat, saute the meatballs until meatballs are browned on all sides.
3. In a separate medium bowl, mix together the water, vinegar, ketchup, cornstarch, carrots, sugar (or honey) and soy sauce. Pour over the meatballs, and allow sauce to thicken. Continue to heat until the sauce just starts to bubble.
4. Serve over rice.
Serves 5
p.s. we also served vegetable samosas at the party, which you can get from any "Little India" area of your city.