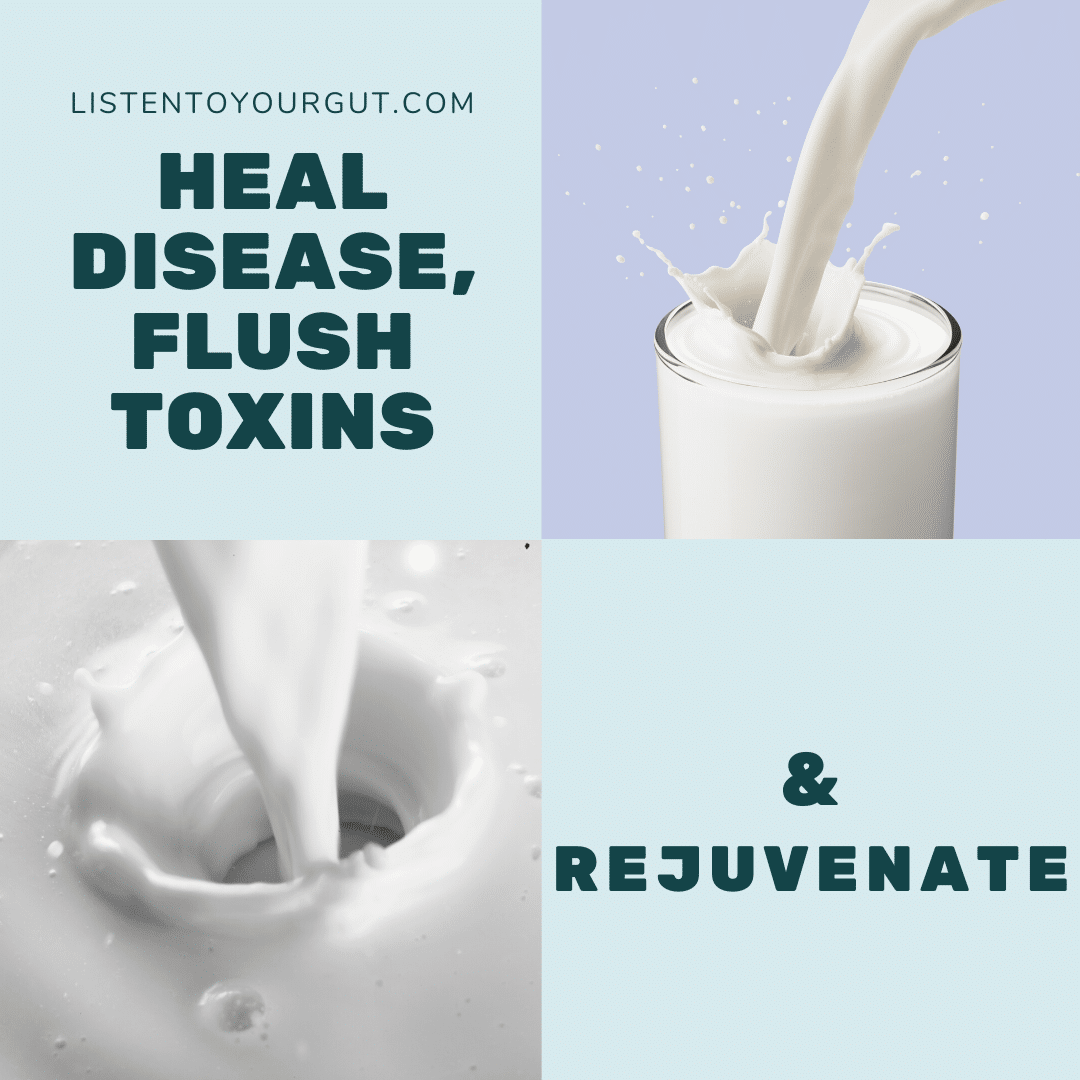 This gut-healing and whole-body detox protocol utilizes a number of key substances and processes to heal a wide variety of diseases, flush out toxins and take your health to the next level of vibrancy. It's a protocol that builds upon the Raw Milk Cure, which I have blogged about in the past.
So without further ado, let's get into the four steps of the protocol – which combine the benefits of pathogen elimination, with a semi-elemental diet, a raw juice nutrient infusion and detox, along with specific herbs to support the endocrine system and major organs of detoxification and circulation.
I'm going to give you the Full version of the protocol first, but for those of you who want something easier, I'll give you the Easy version of reduced duration, at the end.
*Important: If you currently have intestinal bleeding, then I don't think you should follow this protocol as the detox component may be too harsh on your system and trigger a flare. Alternatively, you could do only Step 1, 2 & 4 but leave out Step 3.
Preparation:
Have your toxin levels tested using a urine and/or hair analysis. In addition, get whatever tests done that you can – anything pertinent to your body (or illness) that will help you measure your progress when you get the same tests done at the end of this healing protocol. Some suggestions: hormone levels, cholesterol, blood pressure, hemoglobin, vitamin D, calcium, etc.
STEP ONE: Anti-Pathogen Protocol (4 weeks)
If you have already been on Jini's Wild Oregano Oil Protocol (as outlined in Listen To Your Gut and a number of my books) for two weeks or longer, you can skip STEP ONE.
If not, you need to follow the protocol listed below, for a total of four weeks to clear any gut pathogens, infection in your body, Candida overgrowth, etc.
The four week schedule below includes a one-week ramp-up and a one-week weaning off period. The wild oregano oil dosage consists of 5 drops, or 1 capsule of Joy Of The Mountains or North American Herb & Spice wild oregano oil – you can use either, but I personally prefer the drops.
The probiotic dosage consists of 1 teaspoon of each Natren powder (Megadophilus, Bifido Factor & Digesta-Lac – dairybased if tolerated, otherwise non-dairy is fine) mixed together in 6-8 ounces of room temperature filtered or spring water. OR if you tend towards constipation, use 1 Natren Healthy Trinity capsule per day. If you are having less than 3 bowel movements per day, you can use whichever version you wish (Healthy Trinity OR powders). All these products are available at the LTYG Shoppe.
Anti-Pathogen Protocol
Day 1 & 2: Five drops of wild oregano oil, 1x/day. Natren probiotics 1x/before bed on an empty stomach
Day 3 & 4: Five drops of wild oregano oil, 2x/day. Natren probiotics 1x/before bed on an empty stomach
Day 5, 6, 7: Five drops of wild oregano oil, 3x/day. Natren probiotics 1x/before bed on an empty stomach
Week 2 & 3: Ten drops of wild oregano oil, 3-5x/day. Natren probiotics 1x/before bed on an empty stomach. *If you suspect you have a severe Candida or mycobacterium infection, then take the wild oregano oil five times per day. Otherwise, three times per day should be sufficient.
*Note: If you get too strong a detox (Herxheimer Reaction) from the wild oregano oil, then you have two choices:
1) Cut back on the dosage and take longer to ramp up to the full Week 2 & 3 dosage,
or
2) Push through it and just spend extra time resting.
Day 22, 23, 24: Five drops of wild oregano oil, 3x/day. Natren probiotics 1x/before bed on an empty stomach
Day 25 & 26: Five drops of wild oregano oil, 2x/day. Natren probiotics 2x/day, once in the morning and once before bed on an empty stomach
Day 27 & 28: Five drops of wild oregano oil, 1x/day. Natren probiotics 2x/day, once in the morning and once before bed on an empty stomach
STEP TWO: The Raw Milk Cure (3-6 weeks)
During this phase of the protocol, fresh, raw milk, fro