Absorb Element+ is the EU version of my elemental diet shake, Absorb Plus. It is now available in our newly launched UK LTYG Shoppe for all of our lovely UK and EU readers!
Absorb Element+ is almost identical to the US version, Absorb Plus, it just does not contain vanadium or boron – as EU regulations do not permit them in food supplements. Everything else is exactly the same!
However, keep in mind that if you're using my QuikPlus Bone Matrix (which you should be as I purposely kept minerals like calcium and magnesium low in all my shakes due to the GI irritation or low absorption rate of these powdered minerals), then you are already getting boron – along with all the other minerals required for healthy bones and teeth.
Likewise, if you're using my QuikPlus Trace Matrix (coming soon!), then you're already getting vanadium and over 60 other trace minerals that have disappeared from our soil (and thus no longer present in our food).
Getting back to Absorb Element+, it is a nutritionally complete, elemental diet shake formulated from the highest quality ingredients. Elemental diets promote rapid absorption of nutrients by providing pre-digested ingredients in forms that require the least work for the body to digest. It may assist in situations where chewing or swallowing is difficult, or where digestion or absorption is compromised. It is suitable as a sole source of nutrition for adults when used as directed by a medical professional. Of course, add anti-inflammatory Omega-3 from cold-pressed flax oil to your shakes, according to your tolerance.
In choosing your Absorb Element+ flavour, please note that the UNSWEETENED version has flavours but no added sweeteners, and the rest of the flavors are sweetened with stevia and a small amount of natural fructose (just enough to mask the aftertaste of stevia).
If you would like a FREE sample, please reach out to our customer care team: service@listentoyourgut.co.uk
Now available in our UK Shoppe: https://listentoyourgut.co.uk/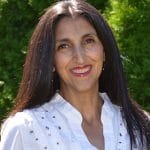 Jini Patel Thompson is an internationally recognized expert on natural healing for digestive diseases. She healed herself from widespread Crohn's Disease and has remained drug and surgery-free for over 25 years. Jini has appeared on numerous podcast, TV, and radio shows throughout the U.S., U.K., Canada, and Australia, giving people hope and vision for how they can heal their Colitis, Crohn's, Diverticulitis and Irritable Bowel Syndrome (IBS), using entirely natural methods. Her books on natural healing for digestive diseases have sold worldwide in over 80 countries.