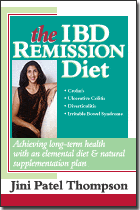 As Absorb Plus is a completely elemental (pre-digested) product, it can be used as part of an exclusively elemental diet. Elemental diets are used to stop intestinal bleeding, induce disease remission and heal the Gastro-Intestinal (GI) tract.
For more information on following a strictly elemental diet, see Jini Patel Thompson's book, THE IBD REMISSION DIET (you can read Chapter One FREE, on-line).
Using Absorb Plus as part of an elemental diet?