I don't care where you get them, but you simply must try these moisturizing body lotions from AUBREY ORGANICS!
Here are 3 different lotions (all of which I love, but my favourite is the Collagen & Almond) made of entirely natural, organic ingredients. The first two have gorgeous essential oils.
Aubrey Organics Rosa Mosqueta & Collagen Moisturizing Lotion – is my daughter's favorite because the smell is like wearing perfume for her. I got her the matching shampoo and conditioner so she can "layer her scents" when she really wants to be surrounded. It's also VERY therapeutic, as evidenced by this review from an Aubrey customer:
"Both my Mother and sister have extremely deep pregnancy scars. I thought that would be my fate as well, but not without a fight. I purchased Aubrey's Rosa & Collagen because it also included elastin. I applied it from my 1st month till my last, 2x per day plus some nutritional supplements. 35yr old Mom here…NO STRECTH MARKS, NONE! Thank You Aubrey! It may be a coincidence, but I don't think so."
Aubrey Organics Unscented Ultimate Moisturizing Lotion – this is the perfect lotion for those of you who are chemically-sensitive, or still not well enough to tolerate any scents. Also ideal for guys who don't like a girly scent!
You can get all of these lotions at the links I included above, or your local health pharmacy may carry them – either way, be sure and give them a try as you won't be disappointed!
Don't forget, the skin is your body's largest organ. You shouldn't put anything on your skin that you wouldn't eat – the absorption is straight into your bloodstream! These body lotions are 100% natural AND certified organic. They perform as well, if not better than salon/spa creams.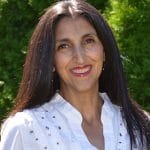 Jini Patel Thompson is an internationally recognized expert on natural healing for digestive diseases. She healed herself from widespread Crohn's Disease and has remained drug and surgery-free for over 25 years. Jini has appeared on numerous podcast, TV, and radio shows throughout the U.S., U.K., Canada, and Australia, giving people hope and vision for how they can heal their Colitis, Crohn's, Diverticulitis and Irritable Bowel Syndrome (IBS), using entirely natural methods. Her books on natural healing for digestive diseases have sold worldwide in over 80 countries.