Occasionally I get emails from people on welfare or in dire financial straits, who would really love to pursue holistic healing, but they just can't afford the supplements.
Or, sometimes people are using natural healing methods, but they find the cost of the healing supplements and practitioner visits eats up all their savings or extra money, so there's nothing left for holidays, or entertainment.
Having been there myself, I can certainly empathize!
However, it's a vicious feedback loop – because unless you can get healthy enough to work, you can't afford the supplements, but without the supplements and healing therapies, you can't get healthy enough to work.
So yes, one way is to put your healing supplements and therapies on your credit card and then pay off the debt when you're strong enough to work and generate some money (been there, done that repeatedly!).
But, thanks to the wonder of the Internet, there's also another great way to make money that doesn't require a dedicated time commitment, or stress you out by having to work when you don't feel well – it's called outsourcing or freelancing.
I use these services all the time for my own businesses – website design and programming, logo design, converting audio and video to different formats, teleseminar transcription, CD artwork and design, etc.
Go to each of these websites and scroll through the service provider categories to get an idea of the thousands of freelance skills needed by companies around the world:
or
Then, if there's something you can do, register and start bidding on jobs.
Elance.com or ifreelance.com are great places (and there are many more) you can go to make extra money on the side, or when you're too sick/weak to hold a regular job. Scroll through the job description categories and there's sure to be some skill you can offer too.
The great thing about working piecemeal like this is you can really schedule around your existing life and restrictions.
You might want to underbid everyone to get your foot in the door (although, if you plan to do this long-term, then you may be better off bidding closer to your "real" price). Or, if you want to find out what people are bidding for certain projects, post an ad for the project, wait till all the bids come in, then cancel the job (there's no penalty for doing this as businesses cancel projects all the time). Then, you will know what to bid for similar jobs/projects.
Hope that helps you.
p.s. If you'd like to find out how your business or job can actually be PART of your Healing Journey, then check out my interview with business consultant and Sufi Master, Mark Silver.
____________________________________________________
Jini Patel Thompson's books on natural healing for digestive diseases have sold in over 40 different countries. Her health articles have been published in journals and magazines in the U.S., Australia and U.K. www.ListenToYourGut.com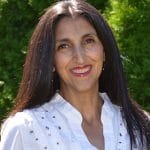 Jini Patel Thompson is an internationally recognized expert on natural healing for digestive diseases. She healed herself from widespread Crohn's Disease and has remained drug and surgery-free for over 25 years. Jini has appeared on numerous podcast, TV, and radio shows throughout the U.S., U.K., Canada, and Australia, giving people hope and vision for how they can heal their Colitis, Crohn's, Diverticulitis and Irritable Bowel Syndrome (IBS), using entirely natural methods. Her books on natural healing for digestive diseases have sold worldwide in over 80 countries.