Can too much of a good thing actually be a bad thing? Many people love their kombucha, but is it possible too much could, in fact, be harmful? Join me and Natasha Trenev, founder of Natren and world-renowned expert on probiotics and culturing and fermenting, as we continue to answer probiotic-related questions from my LTYG readers.
Download my FREE eBook, What You Need to Know About Probiotics.
Shoppe Natren probiotics here.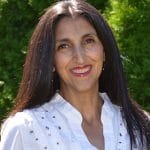 Jini Patel Thompson is an internationally recognized expert on natural healing for digestive diseases. She healed herself from widespread Crohn's Disease and has remained drug and surgery-free for over 25 years. Jini has appeared on numerous podcast, TV, and radio shows throughout the U.S., U.K., Canada, and Australia, giving people hope and vision for how they can heal their Colitis, Crohn's, Diverticulitis and Irritable Bowel Syndrome (IBS), using entirely natural methods. Her books on natural healing for digestive diseases have sold worldwide in over 80 countries.