This gluten-free Korean pancake recipe is a favorite among my household – and SO easy to make! What's wonderful about this particular recipe is the pancakes are not only VEGAN and GLUTEN-FREE, but the batter can be made ahead of time and left in the fridge a few days before you fry – making it a very easy, go-to meal!
Korean Pancake Recipe
Combine 2 cups dried yellow split mung beans and 6 tbsp dry Calrose rice (Japonica medium-grain, sticky rice). Cover with water and soak for 4 hours.
Take 2 medium sized zucchini and grate it using the larger side of the grater. Put it in a bowl and sprinkle with salt. Leave for about an hour (this drains out the water).
Finley slice fresh cilantro or parsley, then chop 6 green onions.
After 4 hours of soaking, drain off all the soaking liquid and put the mung bean & rice mixture in a blender along with 1 and 3/4 cups fresh water added to blend it.
Roughly chop one large yellow onion and fry until translucent. Add it to the batter in the blender and blend, then pour into a large bowl.
Squeeze out the salted water from the grated zucchini and add the zucchini to the bowl. You can also add whatever additional veggies you desire at this stage. Green beans are very nice, red pepper diced really small is great. Peas and carrots are okay too. Fold them into the batter.
Drop by the spoonful (whatever size you like) into a frying pan with hot coconut oil. Allow to set and become browned. Then flip and brown other side. Remove & serve!
Soaking the mung beans and rice prior to cooking aids in digestion and zucchini (or any other squash) is a very easily-tolerated vegetable. If you're sensitive to onions, you can leave out both the green and yellow onions and these will still taste excellent!
What veggies did you use? I'd love to hear how your pancakes turned out! Drop a comment below if you give them a try…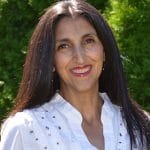 Jini Patel Thompson is an internationally recognized expert on natural healing for digestive diseases. She healed herself from widespread Crohn's Disease and has remained drug and surgery-free for over 25 years. Jini has appeared on numerous podcast, TV, and radio shows throughout the U.S., U.K., Canada, and Australia, giving people hope and vision for how they can heal their Colitis, Crohn's, Diverticulitis and Irritable Bowel Syndrome (IBS), using entirely natural methods. Her books on natural healing for digestive diseases have sold worldwide in over 80 countries.