*Updated May 2018: Absorb Plus Sweetened Chocolate is now available in the shoppe!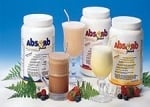 I've been receiving a lot of feedback from readers lately asking about a chocolate version of the unsweetened Absorb Plus. There isn't an unsweetened chocolate flavor in the works as yet, but I can certainly understand as I'm rather partial to chocolate myself!
So, here's the easy fix:
Start with Unsweetened Vanilla
Add 1/2 tsp of organic cocoa powder (nothing else, just cacao beans in powder form)
If needed, increase amount of cocoa powder to taste
If needed, add some stevia powder to make it sweeter
Blend or shake in a blender bottle to mix thoroughly
Then add ice (do not add ice before blending or cocoa powder won't mix well)
When the cocoa powder is manufactured from fermented cocoa beans (that are then roasted in the correct manner), they will contain only traces of mono- and disaccharides. So it is safe to use on an elemental diet. If you use an organic or raw cocoa powder, it will probably be fermented properly.
If you prefer, you can also use an Organic Chocolate Extract (alcohol-free) or Organic Chocolate Concentrate to flavor your shakes and turn them from Vanilla into Chocolate flavored shakes.
Of course, it's not going to taste the same as Absorb Plus Chocolate Royale, but it should satisfy the chocolate craving and give you a little variety if you're bored of the unsweetened vanilla taste. I have done this with Vegan or Whey Protein shakes too and it works just as well.