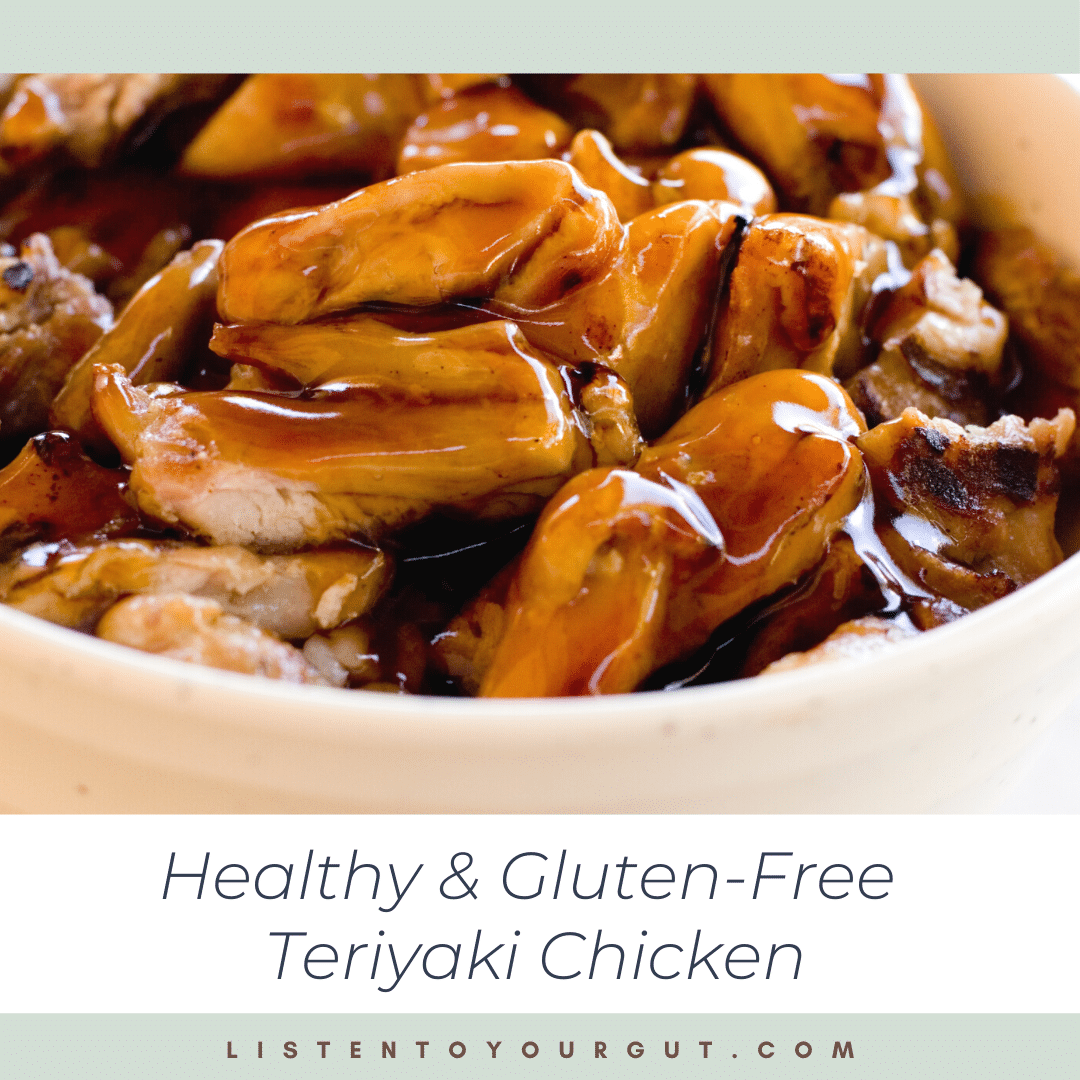 The first time that I gave this healthy teriyaki recipe to my kids, my daughter Zara said, "BEST dinner EVER!"
My eldest son (the pickiest eater in our family, barring me!) at first screeched, "No, don't put it ON the chicken!" But then when I had him taste a piece he said, "Oh, okay, pour it on!"
If you're rushed for time, you can add the honey all together with the rest of the ingredients. Adding it at the end, however, helps to preserve the live enzymes, probiotics, and vitamins that are in raw honey.
If you're on an anti-Candida diet, or otherwise avoiding sugar entirely, I've also given instructions for how to replace the honey with white powdered stevia extract.
Teriyaki Sauce Recipe
1/4 cup GF soy sauce or Tamari
1 cup water
1/4 teaspoon ground ginger
1/4 teaspoon garlic powder
1/2 teaspoon fresh lime juice (optional)
2 tablespoons raw or manuka honey (or replace with 1/16 – 1/8 tsp. of white stevia extract)
2 tablespoons organic cornstarch
1/4 cup cold water
Directions:
1. Mix all but honey, cornstarch, and 1/4 cup cold water in a saucepan, then heating.
2. Mix the cornstarch and 1/4 cup cold water in a cup and dissolve, then add to sauce in the pan.
3. Heat until sauce thickens to desired thickness.
4. Remove from heat and add raw honey, then mix well.
5. Add water to thin if you want a thinner sauce.
NOTE: If kids are sensitive to lemon/lime, just leave it out. Also, if kids do not like any heat sensation at all, then reduce ginger powder to 1/8 tsp. My kids don't like the taste of molasses at all, but you could certainly replace the honey with molasses too if you wish.
Save any extra sauce in a glass bottle in the fridge, and it should be fine for a month or so. You can use this teriyaki sauce with sliced beef or bison as well – so you may want to make up a double batch!
Teriyaki Chicken
Season 2 whole chicken breasts (boneless, skinless) with salt and garlic powder, then grill or pan-fry until fully cooked.
Slice breasts crosswise into thin strips and pour the Teriyaki Sauce over the sliced chicken.
Serve with rice or noodles and vegetables (your choice of zucchini, green beans, peas, carrots, broccoli, cauliflower, bok choy, chard, kale, etc.). Garnish with chopped green onion and sesame seeds sprinkled on top.
How To Cook Super-Tender Chicken Breasts:
Your chicken breasts cannot be pink, or you risk salmonella poisoning, however, you also do not want a dry, chewy, cooked-to-crap chicken breast either! So here's the method I use to get super-tender, delicious chicken every time.
The key is…NO PEEKING! Do not lift the lid to check on them or you will release both the heat and steam that's keeping them moist.
1. Put 1 tbsp. olive oil and 1 tbsp. butter in the frying pan and turn on medium heat (you can use all olive oil, or grapeseed oil, or coconut oil if you prefer).
2. When the pan is hot, season the chicken breasts with a dusting of garlic powder and salt, then place them in the pan. Keep the pan on medium heat and brown each side lightly.
3. When both sides are lightly browned, cover the frying pan with a lid and reduce heat to LOW for 10 minutes. Do NOT lift the lid to check or peek at the chicken!
4. After 10 minutes, turn the heat OFF and again, do not lift the lid to check. Leave the chicken in the covered pan for another 10 minutes.
5. So, now your chicken breasts have been in the covered pan for a total of 20 minutes. You can now take off the lid and slice into the deepest part of one breast to check if they're completely done and that none of the meat is pink. Then slice and serve!
6. If you have any drippings left in your pan, you can either add them to your teriyaki sauce OR swish the cooked chicken slices around in them to coat. Why waste the flavor?
*Note: If you check for pink meat and there is some pinkness there, then return pan to medium heat, place chicken breasts in and cover, and cook for another 5 minutes, then check again. But unless you've got a weird stove or hormone-chicken mega-breasts, the above method should work perfectly.
NOTE: If your chicken breasts came with skin and bone, then save the bones to make broth from. And after your chicken breasts are cooked, you can fry up the chicken skin (sprinkle with salt) until browned, using the same pan. Crispy chicken skin is amazingly tasty and a more satisfying alternative to potato chips.
If you've got a favorite healthy chicken recipe, please post it below!
---
Original post dated 2012. Most recently updated April 2022.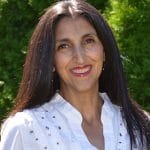 Jini Patel Thompson is an internationally recognized expert on natural healing for digestive diseases. She healed herself from widespread Crohn's Disease and has remained drug and surgery-free for over 25 years. Jini has appeared on numerous podcast, TV, and radio shows throughout the U.S., U.K., Canada, and Australia, giving people hope and vision for how they can heal their Colitis, Crohn's, Diverticulitis and Irritable Bowel Syndrome (IBS), using entirely natural methods. Her books on natural healing for digestive diseases have sold worldwide in over 80 countries.