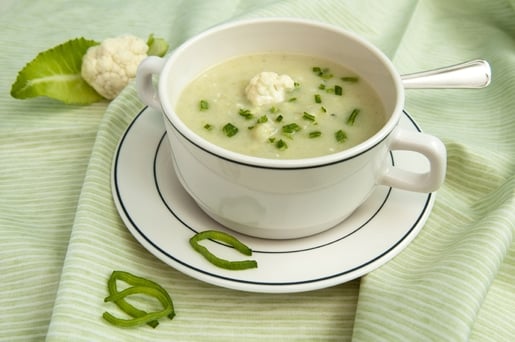 If you're at the place in your Healing Journey where you can tolerate some of those fabulous cruciferous vegetables again, you are going to love this quick and easy soup!
The surprising thing for me, was how "cheesy" this soup tastes. If you're craving a melted cheddar taste experience, this soup will hit the spot, even though there is absolutely no dairy in it.
| Click to Save and Print Recipe |
Creamy Cauliflower Leek Soup – Dairy-Free
1 head of cauliflower, cut into florets (remove leaves, but you can use the stems)
4 cloves fresh garlic 2 large leeks, cut into 1/2 inch slices (use the white stalk part of the leek)
2 tbsp organic extra virgin olive oil
1/2 tsp sea salt or Himalayan salt
2 cups chicken broth (or vegetable broth)
Pepper to taste
Directions:
1. Preheat oven to 375 degrees Fahrenheit.
2. Place cauliflower, leeks and garlic on a large baking sheet.
3. Drizzle with olive oil and sprinkle with salt.
As you can see from this photo, even though the outside of the leek is white (or white-ish) the inside is green – and that's just fine.
4. Roast in oven for 35 minutes, remove and cool for 5 minutes. 4. Blend together with broth until smooth. Add pepper and salt to taste.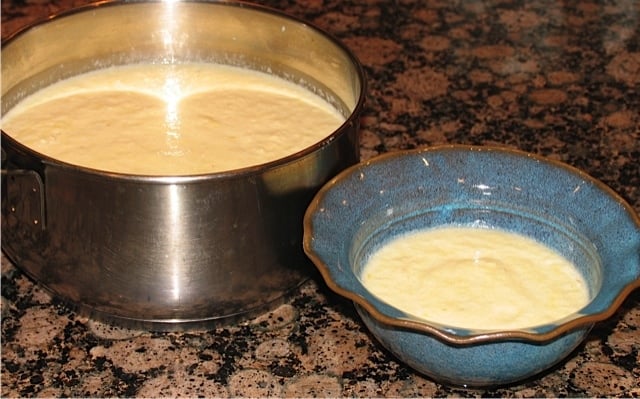 We would love to hear from you if you decide to try this broth recipe. Please feel free to comment and share your experiences below.
If you'd like to share your pictures with us as well, please email us at service@listentoyourgut.com.
Like this recipe? Give some of the below ones a try too!
Barbecue-Style Baked Beans – Sprouted!
Beef Broth for an Elemental Diet
3 Meals Plus Organic Chicken Broth from 1 Chicken!
Squash & Oyster Mushroom Stew
Tummy-Friendly Turkey Chili